Who Does Your Donation to Easterseals Help?
Read stories from Easterseals families and friends

Click here to make a donation and create a positive change in the life of a person with a disability.

Donate
Beginning on Giving Tuesday and continued throughout each Tuesday during the month of December 2016, we featured the stories of children and adults who received Easterseals services. These stories were told from their point of view and explored how Easterseals changed their lives.
Our hope is that these stories will encourage supporters like you to make a donation to help us continue the support and outcomes that help so many every year.
Read these inspiring, incredible stories below!
Today, Haven McCormack is a 10 year old who enjoys playing, laughing, and making her family smile. But in her first year of life, she experienced many complications that left her parents uncertain about the future. When they found out about Easterseals, they knew they made the best choice. Read Haven's story as told by her parents and find out how your charitable contribution helps children like Haven each and every day.
When Moriah's (center) oldest son, Colson (right), was born prematurely and with many complications, she knew that she had to find the most comprehensive early intervention services for him right away. Thanks to a referral, she found Easterseals South Carolina. A year later when Andersen (left) was also born prematurely Easterseals was already very much a part of their family and ready to help both boys beat the odds. Today, they are happy, active, and fun little boys who have achieved so many milestones. Read Colson and Andersen's story to see how your donation supports services like early intervention.
Mary Francis described finding Easterseals' Senior Community Service Employment Program (SCSEP) like being pulled out of quicksand. Her world was turned upside down after losing her husband and she was depressed. After meeting a career specialist from SCSEP, she began to work towards rebuilding her life. Read more about Mary Francis and see where she is today!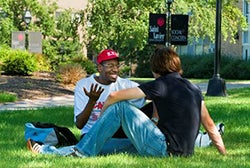 Maurice Snell, 33, is the Development Coordinator at Easterseals Serving Chicagoland and Rockford. He was diagnosed with Autism Spectrum Disorder at the age of six and started receiving services at the Easterseals Therapeutic Day School a year later. After 10 years at Easterseals, Maurice went on to get a degree from Saint Xavier University in Chicago. Soon after, he found himself back at Easterseals with full-time employment. Maurice's passion and advocacy for people and families living with disability is evident not only in his work but also in his interactions with people on a daily basis. Read Maurice's incredible story.