Edward L. Wenzel
Marble Falls, Texas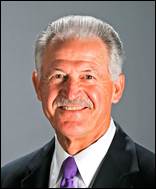 Edward L. Wenzel is in the National Accounts-Institutional Funds Group at American Beacon Advisors. In his current position, he is the senior person responsible for managing the strategic relationships of mutual fund products to retirement plan platforms, national retirement and investment management consulting firms, large corporate plan sponsors, endowments and foundations. Prior to joining American Beacon Advisors, Ed worked at Mutual of America Life Insurance Company for 23 years in sales and marketing of defined benefit and defined contribution plans. Ed received a B.S. degree in Mathematics from the University of Texas at Arlington, and did graduate studies at East Texas State University. He holds NASD licenses in Series 6, 26 and 22.
Ed has been active as a leadership volunteer at several Easter Seals affiliates. He was a member of the board of directors of the New York State affiliate from 1997 to 2001, and served as chairman from 1999-2001. He was also a member of the board of Easter Seals New Hampshire from 1999-2001. Ed moved to Dallas and joined the board of the Greater Dallas affiliate in 2002 and remained a member until 2007 when that affiliate merged with Easter Seals Greater Northwest Texas. He served as chairman of the Greater Dallas board in 2005-2007 and on the 2006-2007Dallas Fort Worth Merger Committee, where he played an integral role in that merger. He became a member of the board of the merged affiliate, North Texas in 2007, was chairman of the North Texas board from 2009-2010. He continues to serve on the Investment Committee of the board of Easterseals North Texas.
At the national level, Ed has been a delegate member of the Easter Seals National House of Delegates since 1997. He has served on the Rules Agenda and Resolutions Committee, Membership and Organizational Structure Committee, Ad Hoc Year of the President's Council Committee, House Nominating Committee and Coordinating Committee of House Officers and Chairmen. He was the chairman of Membership and Organizational Structure Committee in 2006. He served as chairman of the Nominating Committee from 2008-10 and also as a member of the Finance Committee.
Elected to Easter Seals Board of Directors in October 2012, Mr. Wenzel has served as 2nd Vice Chairman and Treasurer of the National Board and chair of the Finance Committee. He currently serves as a member of the Development and Marketing Committee.