Blog Author Profile: James E. Williams, Jr.
President of Easterseals Foundation and Former President and Chief Executive Officer
Easterseals Headquarters (Chicago)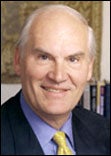 James E. Williams, Jr., became president and chief executive officer of Easterseals in June 1990, shortly before the signing of the Americans with Disabilities Act on July 26, 1990. He became President of Easterseals Foundation in January 2015.
Under Williams' leadership, Easterseals had become the nation's largest service provider for children and adults living with autism and other disabilities, with new program sites, service offerings for more than 1.3 million individuals, and revenues of almost $1 billion. To better serve the needs of families living with autism, Williams initiated partnerships with the Autism Society of America and other autism research and treatment organizations.
Williams also focused on the expansion of Easterseals' services internationally and for a barrier-free America, where all people are included in all aspects of American life.
He began his career with Easterseals in 1970 in Maine, where he was responsible for program development. From 1974 to 1979, Williams directed the Speech and Hearing Division for the State of Missouri Children's Services Section in the Department of Health and Social Services. He led multi-disciplinary medical specialty teams in charge of Oro-Facial Anomaly Clinics in six teaching hospitals. He developed and implemented the state infant high-risk registry for all newborns and served as instructor in the departments of pediatrics and otolaryngology at the University of Missouri School of Medicine.
Williams currently serves as Chairman of the National Health Council and is a member of the Board of Governors of the Institute for Philanthropy. He has served on the boards of the Commission on Accreditation of Rehabilitation Facilities, the JM Foundation Search for Excellence, the National Foundation for Dentistry for People with Disabilities, the Montessori School of Lake Forest, and the Missouri Commission on Comprehensive Health Planning.
Williams earned his master's degree from the University of Missouri, with a major in Communications/Speech Pathology and Audiology and received his bachelor's degree in Speech and Communications from Harding College. He was awarded an honorary Doctor of Humane Letters degree by the University of New England.
See other blogs from Jim on the Easterseals Blog.