Giving Tuesday: Make a Difference In Your Community
Every year Easterseals serves 1.5 million children and adults with disabilities nationwide including veterans, older Americans and caregivers with a simple goal in mind: To make profound, positive differences every day. We're breaking down barriers to create a more inclusive world for the 56 million Americans living with a disability through life-changing services and resources.

Thank you for joining our movement on Giving Tuesday and helping us continue services that enrich the lives of people with disabilities and enrich all of our lives. Find your local Easterseals to learn how your Giving Tuesday donation made a difference!


Donate Today
Chance's Story
Meet Chance. At 18 months old and unable to communicate, Chance arrived at Easterseals with a diagnosis of Apraxia—a heartbreaking condition for any parent and their toddler. An Easterseals onsite speech language pathologist teamed with our classroom teachers to begin working with Chance. At 3 ½, he was articulate enough to advance to the 4-year old VPK class. On June 4, 2015, Chance graduated preschool and started kindergarten more articulate than most of his 5 year old peers – leaving behind any hint of disability. The early intervention of an immersion model with therapists working and sharing critical techniques with teachers and parents on a daily basis is the key! Learn more about Easterseals Southwest Florida's incredible services that help kids like Chance achieve his goals.
Sonya's Story
Meet Sonya. Sonya is a veteran and Purple Heart recipient, who was referred to Easterseals Greater Houston after her home was flooded by Hurricane Harvey. Said Sonya: "We have been denied Red Cross and FEMA [support]. I am guessing because so many claims were filed this time they have to turn down some. I have four boys between 3-16 years of age and one has special needs. We are living in a travel trailer again. To clean/dry out our home required air movers, dehumidifiers, and blowers from the point of tripping the breaker. Our home electric bill was over $500.00. We had an additional electric bill from having to move into a trailer during evacuation. I never expected Easterseals to pay the $500+ bill. I am grateful beyond words. Learn more about Easterseals Greater Houston's services that helps veterans like Sonya.

Layton's Story
Meet Layton. When Layton's mom was sent for a detailed imaging ultrasound at 20 weeks, the scan confirmed that he would be born with a cleft lip and palate. His parents knew he would require early intervention to give him a strong start to life, so when they heard Easterseals was an option they didn't hesitate to choose a familiar name since Layton's dad, T.J., was an Easterseals kid 20 years before. Learn more about how Easterseals South Carolina helps babies just like Layton every day!
Haven's Story
Meet Haven. Following a year of significant delays in speech and physical movements caused by complications at birth, Haven's pediatrician recommended Easterseals Arkansas to her parents. Ten years later, Haven is meeting and exceeding her speech, occupational, and physical therapy goals, including walking independently into a fashion show! Learn more about Haven's incredible Easterseals journey, and how Easterseals Arkansas helps kids just like her every day.
Mary's Story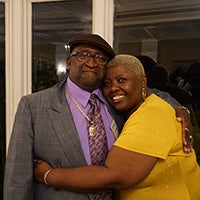 Meet Mary. Mary described finding the Senior Community Employment Program (SCSEP) like "being pulled from quicksand onto solid ground." After losing her husband, Mary kept her grief quiet and shut herself off. After being referred to the SCSEP program at Easterseals Capital Region, Mary gained valuable training, and was eventually offered a full-time job at the Salvation Army as a case manager. Learn more about Mary's SCSEP story, and how Easterseals SCSEP helps mature Americans find meaningful work in their communities.
Meet Kaleb. After an accident on his family's farm resulted in the loss of his right leg, Kaleb's community and Easterseals Iowa rallied around him to ensure that he could continue doing the work he loves. Through modifications and adaptive equipment, Easterseals was able to help Kaleb pursue his dreams of working on the farm alongside his family. Watch Kaleb's story and learn more about the inspiring work Easterseals Iowa is doing for people in their community.