Top honors go to Ely!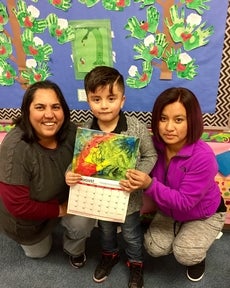 Ely Hernandez of Waterbury CT was awarded a great honor recently. His artwork was picked to be in the Easterseals 2017 calendar!
The annual calendar has been a part of the Easterseals tradition for many years. Easterseals national office puts a call out to the entire affiliate network to have all children that are enrolled in early education programs to submit their artwork. As you can imagine, there were hundreds of submissions from all over the country and each design was considered for the calendar. Eli's "Burst of Color" painting was chosen for the month of August, 2017.
Here is a photo of Ely and his mom (on the right) and his teacher at Easterseals, Namita Bahl (on the left). Ely is proudly displaying his artwork:
Each of these calendars is sent to millions of donors and prospective donors to raise funds for Easterseals. To get your calendar, contact Easterseals of Greater Waterbury at 203-754-5141.
Ely Hernandez was enrolled in our Children's Academy for almost three years. Recently he has graduated, and started kindergarten. The Easterseals Children's Academy provides an inclusive, high quality early care and education program that promotes a child's social, emotional, physical and cognitive growth. We offer a full day, year-round program, parental support and a School Readiness program to prepare children for Kindergarten success. The Children's Academy is accredited by the National Association for the Education of Young Children (NAEYC).
Join us in congratulating Ely, and wishing him the best!