Program Directors Bios
Get to know our program leadership!
Jennifer Cleverdon
Director, Olympic Peninsula Autism Center

Jennifer has been the Director at OPAC since 2015. Jennifer grew up as the daughter of an active duty Navy family and spent her childhood shimmying up coconut trees in Guam, visiting ruins in Pompei and was even able to see the Berlin wall. This life fostered a love of travel, trying new things and meeting new people. Throughout it all, Jennifer was involved in a variety of volunteer work; primarily as a Hospice volunteer to terminally ill patients. She had no sooner got her BA in Psych from Cal State Long Beach and she was off again to live and work in Ireland and England. She eventually settled in London, working first for the Heritage Lottery Fund, a grant giving organization, as a development officer and case manager. She then worked for St. Raphael's Hospice as a fundraiser, particularly involved in legacy gifts.
Jennifer, her husband and her three children, relocated from London to settle in the wilds of Poulsbo. Jennifer's most recent work experience was as a Volunteer Coordinator for Hospice of Kitsap County.
Q&A with Jennifer
Why did you join the organization?
I enjoy working in the non-profit sector. For me, work is not just a job, it is a vocation. I enjoy challenges and look forward to working with the Autism Center families while living the mission of Easter Seals Washington.

What do you like most about your work or how has your life been impacted since becoming involved?
I look forward to seeing the 'learners' and their families every day. I like hearing about the progress they are making. I love knowing that we are making a difference.
---
Renita Linear
Director, Angle Lake Child Development Center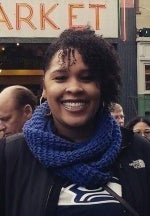 Renita joined Easter Seals Washington as a volunteer at Angle Lake in September 2011. She was so wonderful, we hired her as a full-time employee. Through hard-work and exemplary leadership, Renita eventually became the Assistant Director at Angle Lake. In 2015, Renita was named the Program Director of Little Aviators Child Development Center, but came back to be the Program Director at Angle Lake in November of 2016. Renita has a degree in Human services and is passionate about building strong and long-lasting relationships with families and children from all walks of life.
One thing Renita loves about her job, is spending time in the classrooms, getting to know the children and seeing their faces on a regular basis. "It is always such a rewarding feeling when I walk into a classroom and all the children run up to hug me. I feel so fortunate to be able to work with children, especially in a field that helps them grow and develop at such a pivotal time in their lives."
Renita says that working in the child development field has definitely taught her about patience and creative problem solving, and she sees each interaction with a child as another opportunity to teach and learn. We are so forunate to have Renita as a leader in our organization.
Q&A with Renita
Why did you join the organization?
I joined Easterseals Washington because I wanted to get more experience working with children. After I volunteered at Angle Lake, I knew that the child care field was something I could master and learn from. I also wanted to be a part of a mission-driven organization, that makes a difference in my community. Easterseals Washington shares my passion and vision for making an impact in the lives of children every day.
What do you like most about your work or how has your life been impacted since becoming involved?
I love that I get to interact with families and children on a daily basis. It is so fun and rewarding to see the children grow up from infants to preschoolers. My life has been impacted in many ways, but the greatest has been seeing children develop and leave for kindergarten with the tools they need to succeed.
---
Chris Plyman
Director, Adult Day Center - Des Moines
Chris Plyman has a long relationship with Easterseals Adult Services in Des Moines. In 2005, Chris enrolled his grandmother in the program. In 2008, he began an internship with the center for his BA in psychology, and was hired as program staff immediately after his graduation. He has served two stints as program director, his current turn beginning in 2016.
Prior to coming to Easterseals, Chris served in the military before becoming a defense contractor. After being injured in Iraq, Chris returned to his home town of Seatac where he could be close to his family while receiving medical care. It was during this time that he enrolled in the psychology program at Antioch University with the intent of assisting veterans with traumatic brain injuries and PTSD.
During this time, Chris' grandmother was diagnosed with dementia and he found himself in a brand-new role as a caregiver, providing round-the-clock care. Discovering adult day services was a godsend to his family, providing necessary respite and care. His eventual internship at the center led him to discover a passion for working with people with developmental disabilities, and today Chris considers himself doubly blessed to have had two careers of service. One to his country, and now a second opportunity serving those with developmental and acquired disabilities.
Q&A with Chris
Why did you join the organization?
I was delighted when our adult day center became part of the Easterseals Washington family. As the director, my standard has always been to continue to provide the level of care I would want for my own family member. Now, with Easterseals' decades of expertise in providing a wide variety of services to those with disabilities, I look forward to bringing the services here to an even higher level of professionalism and quality of care.
What do you like most about your work or how has your life been impacted since becoming involved?
The best part of my day is seeing the joy on the faces of our participants and knowing that our activities and the chance for socialization here at the center are improving the quality of life for our participants. I also take great satisfaction in knowing from personal experience that we are providing a vitally important service to the families of our participants – a few hours respite from the demands of care giving. I feel privileged to play a part in the lives of our participants and the families who love them.