Avril Lavigne Foundation Continues Generous Camp Support
Camperships, Yard Games, and Lots of Fun!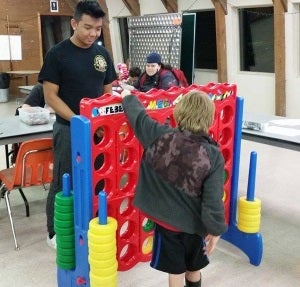 Camp Stand By Me is so excited to receive a grant from The Avril Lavigne Foundation for the third consecutive year! Children and teens of all abilities throughout Washington and beyond get to experience all that Camp has to offer thanks to partnerships like this. In addition to helping keep costs low for our campers, The Avril Lavigne Foundation helped Camp get new activities to make this summer the best ever, including a variety of field and pool games, from jumbo bowling and jumbo jenga, to an oversized basketball hoop for the pool.
"It was a really, really, really amazing, wonderful experience" – Matthew, 18, about his experience at Camp Stand By Me this summer.
"We're thrilled that Avril is continuing her support of our summer camp programs," said Randy Rutta, president and chief executive officer of Easter Seals. "Attending summer camp is a rite of passage for kids. Avril's personal commitment to ensuring that all children have every opportunity to attend and enjoy all the fun and memories that come along with camping is quite admirable. She knows how important inclusion is and Camp S.T.A.R.S allows children with disabilities to do just that!"
CAMP S.T.A.R.S - Summer Time Avril Rock Stars was created in 2012 and has helped children and teens of all abilities get the opportunity to enjoy Camp to its fullest! Click here to view the full album of photos.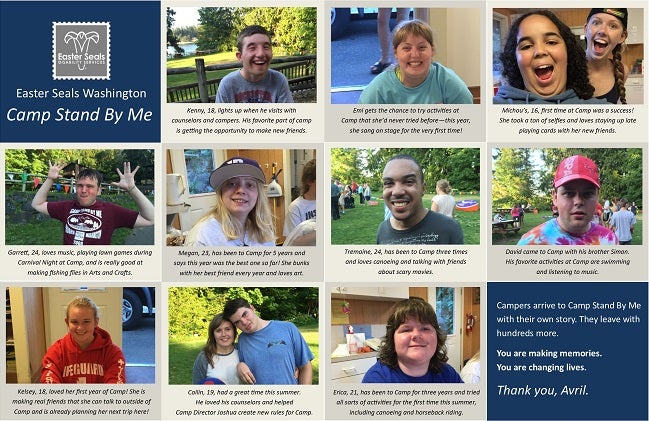 About Avril Lavigne
Avril Lavigne is a multi-platinum, Grammy-nominated singer/ songwriter and philanthropist. Her experience working with and meeting children who are seriously ill or who have disabilities inspired her to form The Avril Lavigne Foundation in 2010. She also currently serves on the Board of Directors for the Nancy Davis Foundation for Multiple Sclerosis and has publicly supported a number of charitable organizations over the years, including Amnesty International, the Make-A-Wish Foundation, War Child, and Special Olympics.
About The Avril Lavigne Foundation
Award-winning singer/songwriter and philanthropist Avril Lavigne created The Avril Lavigne Foundation in early 2010. The Avril Lavigne Foundation R.O.C.K.S.: providing Respect, Opportunity, Choices, Knowledge, and Strength in support of children and youth living with serious illnesses or disabilities. The Foundation partners with leading charitable organizations to design and deliver programs, raise awareness and mobilize support for children and youth living with a serious illness or a disability.