Easterseals Washington Advocacy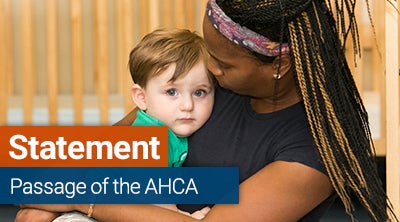 Update: Easterseals' Statement on the House Passage of the AHCA
On May 4, 2017, a revised version of the American Health Care Act (AHCA) was passed in the House of Representatives. Read Easterseals' statement.
---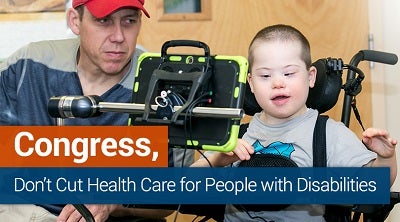 As you know, services funded with Medicaid dollars are threatened in Washington. The legislation that was developed by the House of Representatives and ultimately withdrawn last month could have led to service cuts at Easterseals, and ultimately put people with disabilities at risk. Congress pulled the America's Health Care Act from debate on March 24th. While we may have won this first round, we are confident that the debate on cuts to Medicaid will continue in 2017. Our work is far from done. We need to keep the pressure on Washington to ensure that people with disabilities are part of the conversation and the programs and services they depend on are not in jeopardy.

When Congress returns on April 25th, federal program funding will be on the top of Congress' to-do list. The current funding mechanism ends on April 28, giving Congress just four legislative days to finalize the fiscal year 2017 budget—or pass another temporary funding measure. In addition, Congress will be holding hearings and continue its early work on next year's budget for fiscal year 2018. The Trump Administration's FY 2018 budget outline ("skinny budget") called for significant funding cuts to agencies important to Easterseals, including the Departments of Labor (-21%), Health and Human Services (-17.9%), and Education (-13%). In addition, the President's FY 2018 budget proposed to eliminate programs such as the Senior Community Service Employment Program. We have been very active on the Hill in advocating for Easterseals funding priorities. The President's full budget is expected sometime in May.

In response, Easterseals started a national outreach campaign last month, to help the Easterseals family understand the impact Medicaid has in the lives of so many, how proposed changes are detrimental to our safety and access to healthcare, and the role Easterseals plays in helping to provide Medicaid services. Thanks to you and your efforts, we have:
Sent more than 10,000 messages to Congress to educate them on Medicaid, Easterseals and people with disabilities
Collected more than 200 stories from Easterseals clients and other people with disabilities to rely on Medicaid
Crafted customized fact sheets by state that describe the importance of Medicaid to Easterseals and highlight a client success story
Collected more than 2000 signatures on a petition to Congress on the value of health care for people with disabilities.
We will continue to reach out to you, to make you aware of the potential changes to Medicaid and to ask for your support in conveying to Congress that we must not disrupt the services our clients can't afford to lose.
Click here to learn more about what you can do to protect services for people with disabilities.
---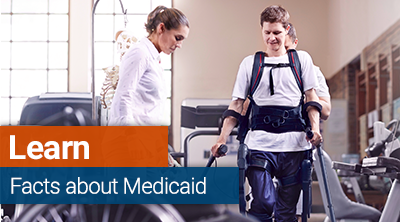 Official Medicaid Fact Sheet: Outline of Easterseals' Stance
Washington State Medicaid Fact Sheet
2016 Washington Autism Profile
---
One in Seven Medicaid Enrollees has a Disability
Medicaid helps so many live their lives to the fullest. Whether that means helping people with disabilities stay healthy and get the resources they need to live at home, or allowing parents to work outside the home for pay instead of being full-time caregivers, people who currently rely on Medicaid services can't afford to lose them. JB Hallock, Phillip's Mom, submitted the following story about the impact Medicaid changes would have on her family here in Washington State.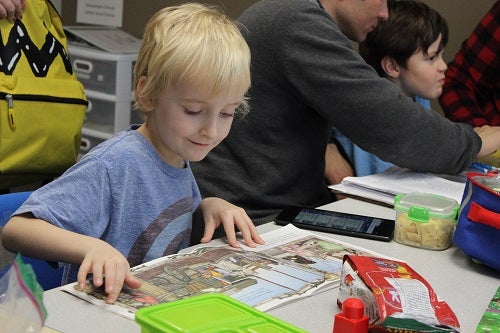 Washington State Medicaid Story
Written by: JB Hallock, Phillip's Mom.

My name is Jennifer Brown and my 7 year old son's name is Phillip. Phillip has been attending Easterseals Washington Olympic Peninsula Autism Center since 2013, beginning when he was three years old. Phillip has been receiving and hopefully will continue to receive ABA therapy at this location for years to come or, with the constant help and support of this amazing program, no longer need this therapy, as that is the goal someday. With his Medicaid insurance coverage, this program has been possible and without that coverage, I know there is no way I could have gotten him the help he needed. One reason, at that time options were limited and another reason, paying out of pocket would have been impossible.

When Phillip began this therapy, he had almost no way of communicating. Phillip and I relied on body language only and that was taught to each other over time. He had no way at all of communicating with others, meaning he was never left in anyone's care but my own because it wasn't possible. Phillip wandered all the time and I followed, keeping him safe. When he wasn't wandering, he was frustrated by lack of communication and lack of ability to cope with the world around him. Many of our days were spent in isolation just to keep him calm and safe. He wanted desperately to play with other children and did not have the skills to do so. He wanted desperately to explore, but autism complicated every effort as we tried, over and over again. Our quality of life was limited and I feared for his future in every way.

In the last four years of being a part of Easterseals Washington Olympic Peninsula Autism Center, his quality of life has completely changed along with our entire families' life. Access to this therapy has opened up my sons world in ways I never thought possible. This program has given Phillip the ability to communicate, taught him self-soothing skills, patience, how to transition with ease, and prepared him for every single event out of our home that years ago, would have ended horribly. Along with making our home a peaceful place to be because he now has the skills to adjust - the people involved in this program have spent as much time as possible learning what would help him and applying it in a way that has been fun for him. He's working and doesn't know it because it's fun for him and he runs into the building excited to begin. He now engages other children of all ages, loves to leave the house, and enjoys public school because Easterseals Washington prepared him in all the right ways. Phillip has gone from being unable to tolerate a TV or the sound of someone's voice, to going to rock concerts and engaging people daily in a short time.

If at some point, access to this program and these amazing people ended, I would fear for Phillip's future all over again as I did four years ago. If I could give the gift of this program to every autism parent on the planet I would, because it has given us the gift of enjoying life in a way I never imagined. My son would be devastated if one day this was no longer an option and I would not have the ability as a parent to prepare my son for an independent future. It literally takes a village to create the life they have and are helping to prepare him for and every scared parent who walks in that building feels at ease in some way quickly. Easterseals Washington has also given me the freedom of working, to provide for my children and leave Phillip in his big sister's care, another thing none of us thought possible years ago.

This is our story and our experience – it could apply to so many others if the access to the right programs are offered and supported.

- Jennifer Brown