For Immediate Release
Future Chef
February 2014 - Easter Seals South Florida Culinary Arts High School helps special needs children learn in the classroom and in a restaurant-style kitchen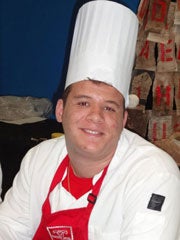 Easter Seals South Florida Culinary Arts High School gives students ages 13 through 22 years old an opportunity to learn prep, cooking, and cleaning skills in a full restaurant-style kitchen.Youths learn everything from chopping and seasoning to frying, grilling and baking, as well as washing dishes and sanitary practices.
Arthur, 21, has advanced very well in the Culinary Arts Program learning to decorate cakes, season food, and dice, chop and slice vegetables. With minimal supervision, Arthur can fry and grill various foods. He has accomplished many cleaning skills as well including washing pots and pans, and operating the dishwasher independently.
His other strong skills are setting a table, serving food and using correct measurements.His mother is very proud along with the teachers and staff at Easter Seals South Florida.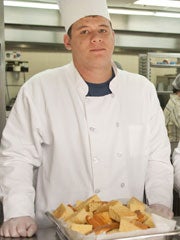 Social skills can be challenging to individuals with autism, Asperger's and other special needs. For Arthur he has developed socially and gets along well with classmates. Recently, he was one of the Easter Seals students to sing the National Anthem at Sun Life Stadium during the opening ceremony for the Dan Marino Autism Walk.
Arthur graduates in a few months with a High School and Chef's Aide Diploma. His dream is to work in a kitchen as a Chef's Aide upon graduation.
Learn more about the Easter Seals Culinary Arts High School Program.