For Immediate Release
Easterseals South Florida Elects Lourdes Rivas to Board of Directors
June 18, 2018
Media Contact:
Nanette Molina
nmolina@sfl.easterseals.com
305-777-6835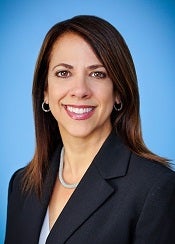 (MIAMI, FL - June 18, 2018) – Easterseals South Florida is proud to announce the election of Lourdes Rivas to its Board of Directors.

A distinguished health care executive with more than 20 years of industry experience, Ms. Rivas is currently the Medicaid plan president for Simply Healthcare Plans, an Anthem, Inc. company. In this role, Ms. Rivas is responsible for delivering operational excellence to more than 600,000 members of Simply Healthcare's Medicaid, Florida Healthy Kids, Managed Long-Term Care and HIV/AIDS Specialty programs. Prior to joining Simply Healthcare, Ms. Rivas held positions at MBF Healthcare Partners, DentaQuest, PrescribeIT Rx and United Home Care Services.

According to Easterseals South Florida President & CEO Loreen Chant, "Ms. Rivas' healthcare background and leadership experience aligns well with our board's commitment to increasing Easterseals' impact on individuals and families living with disabilities and disadvantages in our community." She added, "The Easterseals' board has been instrumental in leading the agency through its recent expansion in both Miami Gardens and Kendall and has provided key direction needed to help us to make important decisions that have helped us support families here in Miami-Dade and Broward counties for more than 75 years."

Easterseals of South Florida's Board Members is comprised of the following individuals: Chairman David Barkus, Vice Chairman Eric Vainder, Secretary Hector Tundidor, Treasurer Cristina Gallo-Aquino, Immediate Past Chairman Alberto de Cardenas, Nancy Ansley, Jean Bell, Paul D. Bianco, Ronald C. Dresnick, Bryce Epstein, MD, Robert Fatovic, Laura Hodges, Adolfo E. Jimenez, Marcelo Llorente, Eugenia Beckwish McCrea, Edie A. Murphy, George L. Pita, Stephen F. Rossman and Steven Savola.

About Easterseals South Florida:
Celebrating over 75 years of helping individuals and their families live better lives in this community, Easterseals South Florida (ESSF) has been caring for children, adults and their families since 1942 in Miami-Dade County. Serving more than 1,500 families in Miami-Dade and Broward counties, ESSF is a leading non-profit provider of services for individuals with developmental, physical and mental disabilities, autism, Alzheimer's, and other special needs. Customized programs focus on the unique needs of the individual and the family. Primary Easterseals services include: Early Intervention, Physical Therapy, Occupational Therapy, Speech and Hearing Therapy, Job Training and Employment, Child Care, Adult Day Services, Afterschool Culinary Arts Program, Culinary Arts Special Needs.

For more information, please contact Marta Quintana, Vice President of Development at 305.547.4765, via email at marta.quintana@sfl.easterseals.com or visit www.easterseals.com/southflorida.