Campers and Volunteers Gather for 43rd Year of Easterseals Camp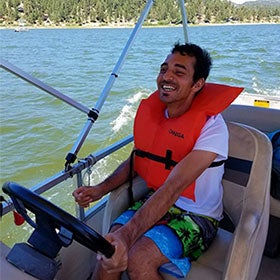 A "Sci-Fi" theme, fun-filled activities, and special guests from CVS Health and Century 21, created a tremendous summer camp experience in the beautiful mountain setting of Big Bear for campers of all abilities.
Accompanied by helpful volunteer counselors, campers participated in fun-filled activities including archery, fishing, swimming, music circles, zip lining, arts and crafts, while achieving personal milestones and having a wonderful time.
"I love everything about camp," said Josh, a camper who has been returning for almost 20 years. "Just being outdoors with my friends, with my family."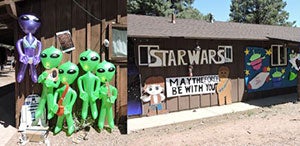 In preparation for the campers' arrival each Head Counselor decorated their cabin with fun motifs including "Star Wars," UFOs and intergalactic aliens for this year's "Sci-Fi" theme.

"The joy and happiness I get from being with the campers is beyond words," said Taffy Lincir, lead counselor who has been volunteering at Easterseals Camp for the past 30 years.
Visitors Day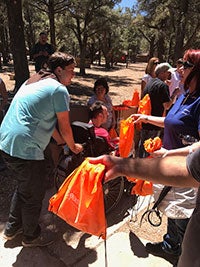 CVS and Century 21 representatives joined campers and counselors during the annual Visitors Day on August 8 to experience the Camp first-hand and learn more about ESSC. They participated in activities such as fishing and CVS Senior Vice President of the Western Division Hank Casillas and members of his team passed out CVS goodies and camp supplies in Easterseals gift bags to the campers.
Dinner and Dance
On August 10, campers donned their best clothes and received assistance with their make-up from several CVS Health beauty advisors who came to camp for the first time specifically to help campers prepare for the annual Formal Dinner and Dance that evening. The campers were thrilled to be able to look their best for the big night.

"I just think it's really nice and fun to look really good," said Allison, a camper who has been attending for 24 years. When asked if she was looking forward to the dance, she said, "Oh my gosh, yes! Even the guys dress up! I love to dance."
Camp News Coverage
Multiple news outlets provided extensive coverage of this year's camp experience.
Spanish-language network Telemundo sent a reporter to cover the camp, where he interviewed several campers and camp counselors for an extensive video segment, which can be viewed here.
The online outlet Circa News featured the camp in an article and an accompanying video here. The piece also spotlighted the annual dance, and included moving interviews with campers Karen and Gina.
Local newspaper the Big Bear Grizzly also featured details about camp, the annual dance, and the make-up assistance provided by the CVS beauty advisors. Campers, ESSC staff and volunteers shared their experiences for the article, which you can read here.

Congratulations to all those involved in making Easterseals Camp a great success!