Strides for DisABILITY 2017

Saturday, October 21, 2017
We are back at SHORELINE AQUATIC PARK IN LONG BEACH



ON-LINE REGISTRATION FEE: $35
DAY OF REGISTRATION FEE: $40
Children 12 and under are Free (must be registered to participate)
Strides for Disability, Easterseals Southern California's annual 5k Run/Walk and 3k Family Fun Walk honors diversity, promotes inclusion, and shows what disability means today. This unifying and spirited event brings together a diverse group of people – with and without disabilities – to break down barriers and show what's possible with the right access, opportunities and supports. Together, we celebrate the strides we're taking to change the way the world defines and views disability while making positive, meaningful differences in people's lives.
As we prepare for race day, joining of teams, creating teams and all promo codes/discounts will expire on Thursday, October 19, 2017 at 5:00pm. Only individual registrations will be accepted.
If you have any issues or questions, please email linda.glasco@essc.org or anna@raceentry.com.
To view step by step guide on how to register, donate, join or create a team CLICK HERE
| | | | |
| --- | --- | --- | --- |
| (Look for the team you want to join and click into it. Then Click JOIN this fundraiser. Be sure to REGISTER for either the 3K or 5K walk. You can refer people to your team to raise funds) | (After creating your team, be sure to REGISTER for the 3k or 5k walk. You can refer people to your team to raise funds) | Click DONATE to this charity and choose a team from the drop down menu) | (Click DONATE to this charity and complete information) |
All participants will receive a t-shirt, draw-string bag and finishing medal along with a ticket for FREE raffle prize drawings which will be announced throughout the event. Participants are welcome to join us at our Partners Plaza Venue – an area with complimentary snacks, drinks, games, giveaways, live music, interactive photo booth, demonstrations, and more!
---
The 2017 Strides for DisABILITY Ambassadors will be Qiana Hicks and her children Jayden and Mila, who attend pre-school at Easterseals Child Development Center in San Bernardino. Jennifer Kumiyama will also be joining us again this year and will be singing the National Anthem at 7:45am at the Main Stage!

This year the event will be co-hosted by comedians Nic Novicki, Johnny Cardinale and Brian Swinehart.



---
This is an open course, so please be courteous to other pedestrians, runners, walkers, folks with strollers and wheelchairs, as well as cyclists along the walk path

ALL PARTICIPANTS MUST BRING A SIGNED WAIVER (LINK TO PDF BELOW) AND THEIR ID TO REGISTER AND/OR PICK-UP THEIR BIB AND T-SHIRT IF THEY HAVE PRE-REGISTERED. WAIVERS APPLY TO BOTH THE 5K RUN AND THE 3K FAMILY FUN WALK. PARENTS MUST SIGN A WAIVER ON BEHALF OF THEIR CHILDREN. WAIVERS WILL BE AVAILABLE AT THE EVENT FOR YOUR SIGNATURE.
Bib and t-shirt pick-up will be available the morning of the event beginning at 7:00am. Bibs will be distributed to all participants.
PARKING
Parking is available at the City of Long Beach Queensway Bay Parking Structure located at 99 Aquarium Way directly across from the Aquarium of the Pacific. The fee is $8 per vehicle. This is a special parking rate and you will need to pick up a chaser ticket at the Easterseals Parking and First Aid booth the day of the event. Normal daily rates: $2.75 every 30 minutes. Lost Ticket $15. Daily maximum $15.


TIMELINE

7:00am – Registration for both the 5K Run/Walk and the 3K Family Fun Walk opens
7:40am – Welcome and National Anthem with Jennifer Kumiyama
7:50am – 5K Warm-Up with Zumba Instructor Lourdes Zerrudo
8:00am – 5K Run Starts and Partners Plaza Venue opens
8:45am – Stage Program begins – Awards given to top 5K Runners in their age groups
9:20am – 3K Family Fun Walk Warm-Up with Lourdes
9:30am – 3K Family Fun Walk Starts
10:15am – Awards to top Fundraisers and Sponsors, Free Raffle Drawings announced
11:30am – Partners Plaza Venue closes – Event concludes
(Timeline maybe subject to change)
VOLUNTEERING:
If you are interested in volunteering at Strides for Disability, please contact Courtney at courtney.mistofsky@essc.org for any questions or please click and complete the attached form and submit. Click here for volunteer form.
SPONSORSHIP OPPORTUNITIES:
Would you like to be a Strides for Disability sponsor? We would love to include you as one of our community partners and have some great benefits to offer. Please contact Linda Glasco at linda.glasco@essc.org or call 714/834-1111 x221. Click here for sponsorship form.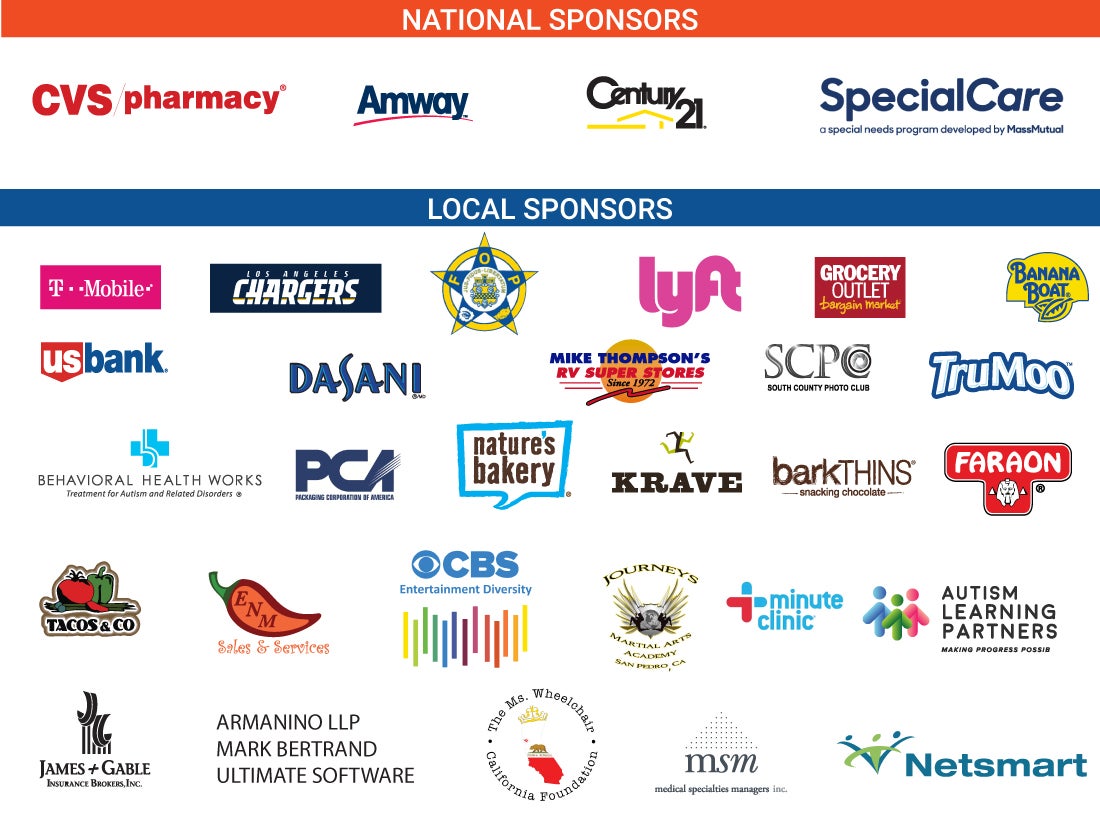 ---
WHY WE WALK…
We walk for Jonas who received Easterseals Autism Therapy Services. "Jonas' therapy was life changing for the whole family" his mom Gabby said. He completed therapy and started kindergarten with his peers.

We walk for Ariana who is participates in the Easterseals Adult Day Services. Ariana volunteers regularly in her community to build work-related and social skills. It also helps her work with others as a team and provides personal independence.

We walk for Eli who was in one of Easterseals Child Development Centers. Eli received Early Head Start education because he used to play quietly by himself and not socialize with other children. The teachers at the Child Development Center worked with him to connect him with his classmates and increase his socialization.

We walk for Rony who is part of the Easterseals WorkFirst program. Rony was unable to gain employment and everything she attempted failed along with her self-worth. WorkFirst helped Rony rebuild her confidence and target her job search and now she is an instructor at a social service organization.

We walk for Michael who is involved in our Easterseals WorkFirst/Military & Veterans Services. After 20 years in the Navy, Michael has transitioned from the military to employment with an airline company. The services he received helped him identify what kind of work he wanted and to translate his military skills to civilian language.

We walk for Benjamin who for the past 9 years has lived independently in his own apartment with the support from the Supported Living Services, one of the community-based Living Options Easterseals offers.
2016 Photos

2016 5K Start

2016 3K Start