Speechless Q&A With Actor Micah Fowler Who Plays JJ DiMeo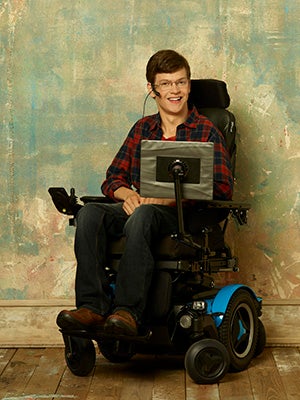 Easterseals is thrilled to share exclusive monthly Q&A's with members of the DiMeo family and other crew on the show Speechless. The interviews provide new information about the show's second season, a look behind-the-scenes, and more. Read the latest interview below from actor Michah Fowler who plays JJ DiMeo on the show, and be sure to watch Speechless Wednesdays at 8:30|7:30C.
Micah Fowler (JJ DiMeo)
What are you most excited about for Season 2?
I am super excited to see how JJ's senior year of high school goes and seeing how JJ navigates through all the decisions that go along with graduating and planning his next steps after graduating. I am also looking forward to seeing all the new fun shenanigans JJ gets himself into.
Have you prepared differently for your character's role this season compared to last season?
Not really, though I would say this season, I am more comfortable in thinking outside the box and taking risks more when thinking up JJ's reactions.
Are we going to see big changes in your character?
We don't get the scripts more than one week before filming so I really am not sure what big changes we might see in JJ's character. My guess is that we won't see huge changes in JJ's character this year, but will once he graduates high school next season.
Is there something you want to tell fans to watch out for this season?
Watch out for continued surprises and a boatload of craziness in the DiMeo household.
What's a typical day like on set?
My schedule varies from day to day and week to week. No one-day is the same, I am emailed a completely different filming schedule each night for the next day. We typically start off early on Mondays, (5am/6 am) and jump right into rehearsal and start shooting immediately. One day I might be in every scene, another day I might have a scene or two off intermittently throughout the day. During times when I have a scene or two off and during lighting set ups or in-between takes, I am either prepping for upcoming scenes, doing press interviews, watching television or you tube videos in my trailer or just goofing off and catching up with cast and crew members. (Last season I would tutor during these down times, but I am thrilled to report I have now graduated high school and no longer have to tutor on set.)
When I come home at night, I read through and prep for my scenes for the next day, then if it's not too late watch a television show and go to bed. We usually do the "table read" for the next week's episode, before the writers, producers and executives, sometime on Monday afternoons. Later in the week, we usually do one or two days of filming on location up to over an hour away. The location of the shoot all depends on the storyline for that episode. Location shoot days are a lot of fun and usually very long; sometimes 13-14 hours.