Yudian's Story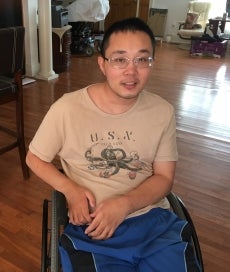 September is Spinal Cord Injury awareness month. Did you know we provide case management to individuals with spinal cord injuries who are eligible to receive services from South Carolina Department of Disabilities and Special Needs? Yudian was one of the first clients to receive case management from Easterseals almost two years ago. After moving to South Carolina, he chose Easterseals to help guide him through the intake process for SCDDSN. Once eligible, he once again chose Easterseals to provide his case management services.
How did you learn about Easterseals Case Management Program?
I learned about Easterseals from an Administrative Specialist at SC Department of Disabilities & Special Needs who asked me to choose my top 3 providers from a list.
What kinds of support have been most helpful to you and why?
The most helpful support has been attendant care as it allowed me to hire attendants to assist me in everyday tasks from getting in and out of bed, brushing teeth, taking shower, etc. 2nd most help support has been Easterseals staff who are friendly and helpful and responded to my inquiry.
What are you able to do now that you were not able to do before you started receiving support from Easterseals?
I am now able to live more independently with assist from attendants that Easterseals helped me in applying for.