Rylee's Story
What were the first signs of concern for you and how did you discover that your child had Rett Syndrome?

Rylee was born as a healthy and beautiful child. At 4 months old, Rylee was diagnosed with plagiocephaly, also known as "flat head syndrome". Over time, Mom started to notice delays in Rylee. Rylee was able to sit independently for a short time, but she did not roll over until she was close to 13 months. She was never able to crawl and she also never learned the ability to chew. When Rylee was around 1, Mom started seeking help for the delays. A short time later, Rylee was diagnosed with Rett Syndrome. Over the next year, Rylee spent most of her days crying, she started mouthing her hands, she lost 13 words that she had previously been able to use to communicate, she lost the ability to sit up, and she lost functional movements in her hands and feet.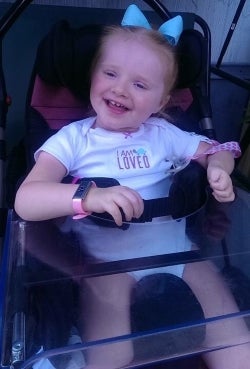 How did you learn about Easterseals Early Intervention?

When Rylee started showing delays and was eventually diagnosed with Rett Syndrome, Rylee's pediatrician recommended early intervention services and intense therapy.
Tell us about your journey with Easterseals Early Intervention Services. What has been accomplished thus far and what do you hope to accomplish in the future?
Through Early Intervention, Rylee has been able to develop goals that are suitable for her. Due to Rylee's regression, her goals are ever-changing and Rylee's early intervention team has been flexible in helping her to meet these goals. Rylee has also been receiving therapy since the referral to early intervention services. After receiving occupational therapy, Rylee was able to learn how to use eye gaze to communicate. Rylee has also been able to start focusing on something or someone without wandering, which was another concern for Mom before the diagnosis of Rett Syndrome. Recently, Rylee has started rolling over when placed on her back. Rylee's crying has lessened and she is happy more often during the day. With the help of physical therapy, Rylee has also started to sit up with support. Due to Rylee not being able to chew foods, Rylee was not able to gain weight as needed. Rylee has since received a gastrostomy tube for feeding and speech therapy was able to help Rylee and her family adjusts to her new way of feeding. Mom hopes that Rylee will continue to show improvements throughout her journey with Easterseals.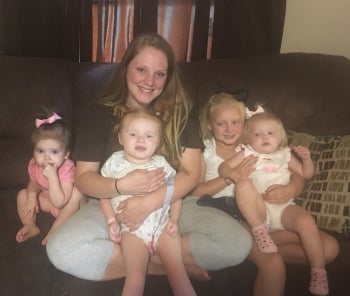 What kinds of support have been most helpful to you during this journey and why?
Mom was referred to Family Connections in order to connect with other families that have children diagnosed with Rett Syndrome. Mom has experienced positive feedback from other families coping with the same situation and has enjoyed relating to others that know what she and Rylee are going through. Rylee's therapy team has been phenomenal about teaching Rylee new ways to be more self-sufficient. Recently, Rylee has received two assistive devices that have helped Rylee and her family tremendously. Rylee received a Tobii, which is a device that measures Rylee's eye gaze in order for her to communicate. Due to this high-tech device that follows Rylee's eye tracking and then says aloud what Rylee is selecting, she is able to let her family know what she wants or needs, what she would like to do, and even tell a funny joke every now and then. Rylee has also recently received a tumble form, which is an adaptive, tilting seating device for children with special needs. It allows Rylee to sit up with the security of a harness and a connecting table device allows Rylee to easily participate in short activities. Rylee has been able to receive home health services, which provides Mom with help for Rylee while also parenting Rylee's three sisters. Rylee and her family have received many supports throughout her early intervention journey.

Below are photos of Rylee using her Tumble Form and wheel chair. Also pictured are Rylee's Mom, Jeannie Hammond, Rylee's sisters, and early interventionist, Taylor Bradford.