Allison's Story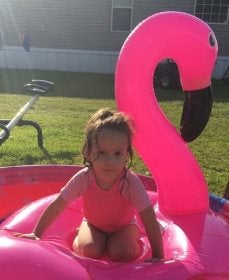 When Allison was about 6 months old we noticed that she was not as verbal as her sisters were at that age. One of my good friends, Melanie Brancato, who works for Easterseals mentioned that Allison may need to be assessed to see if there was something else going on. I just thought that she was a quiet baby. When Allison was around 24 months old I thought that maybe she had a hearing problem so I made an apt with a specialist. Allison's hearing results came back as normal and then she had an MCHAT which showed that she was "at risk for autism". My heart broke! Allison has an older sister with CP so I have been through early intervention before and I really thought that Allison was developing slower because she was the "baby" of the family. She has 3 older sisters! At that time, I decided to take Allison to Babynet to have an assessment done. The assessment showed that she had developmental delays in all areas. As soon as I was told that at Babynet I knew I wanted to have Easterseals as Allison's Early Intervention provider.

As soon as Melanie Brancato received the Babynet referral she had one of her Early Intervention Specialists come out that same week! I was so surprised at how fast and how compassionate the people who work for Easterseals are! They truly care about Allison and the rest of my family! My EI always made me feel comfortable and if I didn't understand something they always took their time to explain everything to me. Allison has been with Easterseals for about a year now and she receives Speech Therapy, Occupational Therapy, ABA Therapy, as well as Early Intervention. Allison is one of the 1st kids in our area to receive ABA through the new Easterseals Autism division "Autism Services of South Carolina". I could not be happier with the services that Allison is receiving!!

Over the past year so many people have worked tirelessly to help Allison and the rest of our family understand what Autism is and that it is okay to be different!! With the help of everyone at Easterseals Allison went from being 100% non-verbal to having a vocabulary of about 15 words! She has even started to interact with people. My EI would meet us at the park where Allison could be around other kids her age and that has really helped her in all areas of development! I like to say Easterseals has helped her from "nothing to DOING"! She has started to feed herself, play make-believe, remember where stuff belongs, and even climbs stairs by herself! I love that our family is part of the Easterseals Family!!