Military Respite
Air Force and Navy Respite Care
Easter Seals South Carolina is currently assisting the National Association of Child Care Resources and Referral Agency (NACCRRA) in providing respite care to Shaw AFB, Charleston AFB, Beaufort, Fort Gordon, and Charleston Naval Base personnel with a child(ren) who has severe or moderate special needs.

How do you know if you are eligible?
The family member is enrolled in the Air Force Exceptional Family Member Program (EFMP)
The EFM child is age birth through 18
The EFM child has severe or moderate special needs
The EFM child's sibling is age birth through 12
No income restrictions - FREE to eligible Air Force Families
For more information, families can call Kate Gilleran at (843) 670-8241 or email Kgilleran@sc.easterseals.com
Click here to download a pdf
flyer
with more information
For more Information about EFMP Programs on a base near you visit these websites: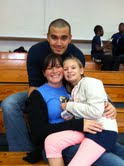 I can't say thank you enough for your respite care. My husband and I have date nights again! Also, I know how much I'll appreciate the services when he inevitably deploys and I need some "me" time. It's a sigh of relief knowing that our daughter is with someone we can trust and knows just how special she is. After all these years we just assumed finding a caregiver would continue to be difficult, but the Easter Seals have made a simple process with respite and we are very grateful. Thank you again!
Amy & Robert Carter
Joint Base Charleston, SC
Community OneSource
Easter Seals' mission is helping those with challenges to live, learn, work and play within their communities. For Veterans, that often hinges upon their ability to access their benefits ... which often proves to be a challenge in itself.
The fact is, there is a wide range of government benefits for Veterans. There are also a growing number of private and non-profit organizations anxious to give-back to Veterans -- in recognition of their service—by assisting them with other needs that are not addressed by their government benefits.
Ironically though, many Veterans are "falling through the cracks" -- they are either not aware of their full range of benefits and choices or they don't know how to access them. Plus Veterans often have difficulty asking for help, especially in their personal lives; as young service members, they were taught to take pride in self-sufficiency and to value resourcefulness.
Community OneSource bridges that disconnect by connecting Veterans with contacts at the organizations that will meet their needs.