Veteran Transitions to Employment Before Leaving Active Duty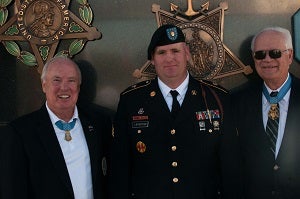 With less than two years until the end of his military service, NCO and Public Affairs Officer Michael Leverton knew that finding a job in the civilian world would not be easy. He became interested in a new program that was offered to transitioning veterans. This particular program would have him walking straight from his Army position into a freight transport career that would provide a living wage and full benefits to support his family.
Through a $1.2 million grant from the
PwC Charitable Foundation, Inc.
, the Teamsters Military Assistance Program (TMAP) offers a 6-week course at three military bases across the country. Through this program, transitioning veterans receive training, a commercial driver's license (CDL) and a placement with ABF Freight upon completion, which includes a livable wage and full medical benefits. What made Leverton's transition unique was that this training occurred six weeks prior to the end of his military service.
TMAP works with ABF Freight and
Easterseals Dixon Center
to provide veterans with job placements and assistance, respectively. While ABF Freight supplies meaningful work, Easterseals Dixon Center is there to offer community resources, supports, and assistance to the veteran and their families after they have fully transitioned. For example, Easterseals Dixon Center offers financial assistance, caregiver training, respite services, health and wellness programs, advocacy and education, as well as employment programs and job training.
At the end of his active service and graduating from the TMAP training, Leverton found himself back in his hometown of Dayton, Ohio driving a truck for ABF Freight. After driving a freight transport vehicle for four months, the TMAP program recruited him back to be an instructor at the same program from which he received his training.
Leverton jumped at the chance to help transitioning veterans, much like himself, find meaningful employment as they transition out of their active service. Today, he enjoys his role of recruiting, teaching, coaching and encouraging his peers as they transition from military to civilian life.
Thanks to this program, Leverton and his peers are thriving.
"I couldn't ask for a better job," said Leverton. "I learned so much in the Army and I'm so thankful for the years I spent serving my country. As a transitioning veteran, underemployment was a concern for my family and I. Because of this unique partnership, it's a relief to know a job was waiting for me and that I was able to provide for my family."
It's vital for transitioning veterans to be prepared well before they leave active duty. Leverton started thinking about life after the military almost 2 years before he was done and he attributes his success in transitioning into the workforce to how well he prepared before he left the army. Now as an instructor, he encourages all military service men and women to start thinking about life after the army.
TMAP has a 99% graduation rate. The program plans to expand to nine military installations across the nation. To date, TMAP has graduated 1,700 veterans into meaningful employment.
To find out more about the assistance program or the community resources in your local area please visit Easterseals.com