The Hope Family Foundation Grant Expands Services to Veterans
Easter Seals Dixon Center to continue spirit behind Bob Hope's commitment to U.S. troops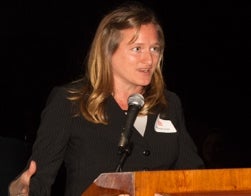 Legendary entertainer Bob Hope was famous for his comedic one-liners, which he delivered on stage, radio, television and film over his long career.
Hope, who passed away in 2003 at the age of 100, left a legacy of humor and also humanitarianism. He traveled the globe entertaining U.S. armed forces for more than 50 years—delivering laughter and American culture to troops stationed far from home.
Today, the spirit behind Mr. Hope's commitment is embodied in a gift The Bob and Dolores Hope Charitable Foundation has generously awarded to Easter Seals Dixon Center. The three-year, $1.1 million grant will make possible The Bob Hope Veterans Support Program benefitting Southern California, which will provide compassionate support to assist service members, veterans and their families achieve employment and education goals through:
Personalized employment services
Small business development and micro-grant funding
Outreach to assist with finding educational opportunities
Efforts to raise awareness among potential employers
"Easter Seals Dixon Center wants others to, once again, be captivated by Mr. Hope's unique support of our troops, and work to change the lives of this generation's military families especially upon their transition back to civilian life," says James E. Williams, Jr., Easter Seals president and CEO. "His unique commitment to our troops—particularly through entertainment, awareness, and connectedness—is something we need more of today."
At an event to present the grant, Miranda Hope—one of Mr. Hope's grandchildren—shared memories of accompanying her grandfather on one of his last trips to entertain troops.
"I saw the living proof of one of his core beliefs: it is one's obligation to take one's talents and gifts to the center of a crisis and begin to heal," she said. "We have a crisis … veterans returning from war aren't always thriving. There are many reasons why and many ways in which they need support, but the fact remains—they need support and they deserve it."
"It is a great honor," Ms. Hope added, "to be here tonight and to be partnering with Easter Seals Dixon Center, supporting them as they do their noble and necessary work."