Q&A with Brice Williams, Lead Actor in Easterseals' PSA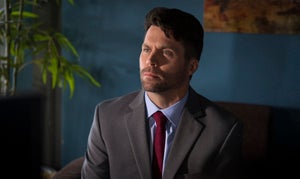 Veteran Brice Williams is a Hollywood actor whose fallback career is rocket science. You read that right—rocket science. While in the Air Force, he helped launch GPS satellites into space. While working for NASA during his Air Force service, his passion turned toward an entirely different set of stars—Hollywood.
He's currently a working actor living in Los Angeles with his wife and Newfoundland, eager to talk about his latest project—Easterseals PSA video promoting veteran reintegration and employment. Here are highlights from a recent chat we had with Brice about just that.
Q: So how did a brainiac like yourself---a rocket scientist for NASA with a Master's Degree in Mechanical Engineering---end up acting?
A: Actually, my work in the Air Force opened my eyes to the fact that I could make a living being creative. The backbone of any good engineer is being curious about how things work. And when you look deep down from there, it also applies to being curious about why people do the things they do. And that's why I'm interested in acting. So when I returned to [civilian life in] Los Angeles, I took acting classes. One of my classmates was James Franco, in fact.
Q: You have a familiar face. What other acting work have you done that we might recognize you from?
A: I've been in a lot of Shonda Rhimes TV shows. I was once on Private Practice and I've also played Derek Shepherd's dad in flashbacks on Grey's Anatomy.
Q: What was your experience working on Easterseals latest PSA about

returning to civilian life

?
A: The whole thing was a ton of fun! I got to do awesome stuff like ride in a Hum-Vee and wear night vision goggles. I've only had a little experience with those things in survival training with the military.
Q: What skills did you bring to your acting work in the civilian world that you learned in the Air Force?
A: The biggest things are perseverance and a strong work ethic. I've got to train and master things. I've learned to always strive for mastery.
Q: Could you relate to the Easterseals PSA "What to Wear"?
A: There are many regulations in the military. It's not just the clothes. Literally, if you want a moustache, it would have to look a certain way. In the military, I never had to worry about what I was going to wear. In the [civilian] world, I'm always thinking "Oh, what should I wear now?"
Find out how Jim Fabio came up with the winning idea for our 2015 PSA.