Q&A with Jim Fabio, the Winning Writer-Director of Easterseals 2015 PSA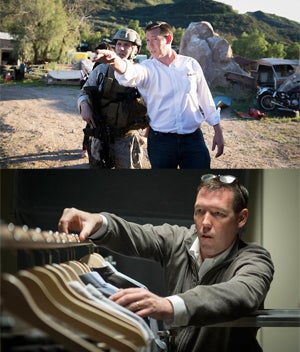 Of the more than 50 creative submissions from filmmakers and members of Veterans in Film and Television (VFT), Jim Fabio's was the winning pitch. Under the mentorship of famous film producer, writer and director Judd Apatow, Jim wrote and directed the third installment in our series of Public Service Announcements on veteran reintegration and employment. Watch the PSA, starring Rob Riggle, here.
Q: What inspired your idea for the PSA, "What to Wear"?
A: In the military, someone else tells you what to wear every day… and there really aren't that many options. It's pretty easy… wake up, put on your uniform. When I was in transition from active duty to the Air Force Reserve, I attended some civilian career conferences. Everyone else at the conference was dressed in blue, gray or black suits, and I was wearing an olive jacket and tan slacks and I just felt, well, out of uniform, so to speak. I immediately thought, "I've got to work on my wardrobe for the civilian world."

Q: What did you end up doing after college?
A: I was an active duty officer in the Air Force for four years, and now in the Reserves for 17 years [and counting]. My specialties were Combat Camera and now Public Affairs. In the civilian world I am a filmmaker.

Jim's video bio from his submission:
Q: What skills and experiences did you bring to your civilian work, and even to the PSA?
A: Throughout my military career as a Combat Camera officer, I've been deployed to cover a range of combat and peacekeeping operations in Haiti, Bosnia, Iraq and Afghanistan, oftentimes sending others into harm's way. Stress was high and there was a lot at stake. As I reflect on those experiences now, I see the corporate world as challenging but not overwhelming. You'll see this in the main character of the PSA when he remembers his combat experiences, and suddenly everyday challenges seem more than manageable.
The foundation for that was laid when I was a cadet at the Air Force Academy, where the program was quite rigorous. Between military training, academics and athletics, there really wasn't time for anything else, and some days it wasn't possible to accomplish everything you had to get done. We were forced to prioritize and learn time management, teamwork, and how to perform under pressure. Making it through four years there made me feel, "Wow, I'm capable of taking on whatever life brings."
Q: What was it like being mentored by Judd Apatow?
A: Pretty exciting. We met at Sony Pictures Studio in Los Angeles where he let me sit in on an audio editing session for his new film "Trainwreck." When he finished his work, we sat outside and talked. It was very cool that he took time out of his day to ensure the success of the Easterseals PSA and to show his commitment to veterans like me.

Learn more about Easterseals veteran employment services.
Our PSA stars Rob Riggle as well as a Brice Williams, a rocket scientist-turned-actor—meet him and find out why he made the change.