Community OneSource
Helping Veterans and their families connect to services and resources
Easterseals' mission is helping those with challenges to live, learn, work and play within their communities. For Veterans, that often hinges upon their ability to access their benefits ... which often proves to be a challenge in itself.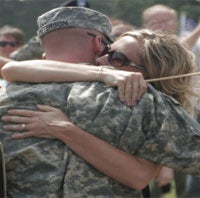 The fact is, there is a wide range of government benefits for Veterans. There are also a growing number of private and non-profit organizations anxious to give-back to Veterans -- in recognition of their service—by assisting them with other needs that are not addressed by their government benefits.
Ironically though, many Veterans are "falling through the cracks" -- they are either not aware of their full range of benefits and choices or they don't know how to access them. Plus Veterans often have difficulty asking for help, especially in their personal lives; as young Servicemembers, they were taught to take pride in self-sufficiency and to value resourcefulness.
Community OneSource bridges that disconnect by connecting Veterans with contacts at the organizations that will meet their needs.
In the past two years, Community OneSource has responded to hundreds of requests from Veterans or their families looking for:
Veterans benefits information
Caregiver resources
Education benefits specialists
Financial assistance resources
Benefits for seniors
Employment assistance services
Housing options available
Local child care providers
Counseling services
Legal Aid Services
Healthcare options
And more ...
Veterans and their families who request information or assistance from Community OneSource will be presented with the public, private, and not-for-profit resources most suited to their needs, allowing them to focus their time on the most viable options. Over the past two years Community OneSource (COS) has helped numerous veterans find solutions to specific needs:
A Veteran whose work hours were reduced, subsequently needed assistance with a security deposit for an apartment that fit his budget. COS identified a local government agency which provided the funds.
A recently redeployed Reservist lacked the funds to move his family back to his home state so that he could complete his education. COS identified a not-for-profit organization that funded his family's moving expenses.
A mobilizing Reservist and his wife were seeking day care for their five-month-old son. COS connected them to a nationally known day care provider with an availability near their home.
A Veteran on a fixed income wanted to send his daughter to college. COS placed him in touch with a state agency that determined he qualified for a program that covered 48 months of his daughter's tuition.
On several occasions, COS connected disabled veterans with not-for-profits that assisted with housing and vehicle modifications that were not funded by theEaster Seals Serving DC | MD | VA.
Take the first step in getting the help you need. Call us at 866-423-4981 or email us at veterans@easterseals.com. The Community OneSourcesm representative will gather the information from you that is necessary to determine the best resources for meeting your need.
Community OneSource is open to all veterans, mobilized reservists and their families at no charge. Emphasis is always placed on identifying local resources whenever available.