Senior Community Service Employment Program (SCSEP)
Easterseals is committed to empowering low-income older workers to achieve economic independence and fully engage in the process of determining their own future, through participating in the Senior Community Service Employment Program (SCSEP).
SCSEP is the largest federally-funded program for older adults who seek employment and training assistance, as well as civic engagement. Through this transitional employment program, Easterseals partners with community-based non-profit organizations and government agencies (host agencies) to provide participants with training opportunities to update their skills. During time in SCSEP, job seekers work with Easterseals staff to target and achieve personal employment goals.
Since beginning to provide the Senior Community Service Employment Program (SCSEP) in 2003, Easterseals has served nearly 40,000 older job seekers, with over 4,500 people transitioning out to employment.

Information for Job Seekers
Learn more about the participant experience! Easterseals SCSEP offers individualized training and job placement services for older adults who want to work to stay active, supplement their income, and to contribute to their communities.

Information for Employers
Finding the right employee can be a difficult task. Expand your search to include a previously underutilized pool of talnt — those age 55 or over. Easterseals can help you do just that by matching your needs with a dedicated worker who can get the job done!

Participant Training Assignments
SCSEP participants get work experience by completing a community service training assignment. There they gain marketable work experience and develop a supportive network that helps in the transition toward employment.
Local Easterseals SCSEP Affiliates
Easterseals SCSEP is administered locally by Easterseals sub grantees in the following states: Alabama, Illinois, New Jersey, New York, Oregon, and Utah. If Easterseals SCSEP is not in your state, you may contact the U.S. Department of Labor (DOL) for information on the office nearest you. The DOL toll free number is: 1-877-US2-JOBS.
Eligibility
To be eligible for SCSEP, applicants must meet the following criteria:
Be 55 years of age or older
Reside in one of the counties that Easterseals SCSEP serves
Have a family income that is not more than 125% of the federal poverty income guidelines
Be currently unemployed
Be seeking employment
Contact us for more details and information.
Success Stories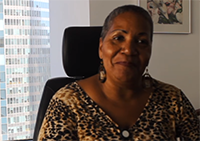 Watch: Phyllis Found a Job at Easterseals Through SCSEP

Meet Phyllis Buchanan, an information and referral associate at Easterseals' national office.

Learn more about Phyllis
Resources
For more information about the Senior Community Service Employment Program and other information useful to job seekers, visit one of these Web sites: