What I Didn't Know About Becoming a Mom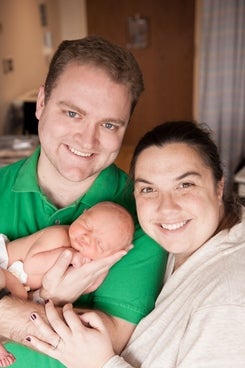 Working on Easterseals' Make the First Five Count campaign and raising awareness of the Ages & Stages Questionnaires® developmental screening tool, I've tried to craft messaging geared toward parents, mommy bloggers and caregivers. New moms remained a mystery to me—what messaging resonates with them? Whom do they listen to for advice? With many new moms on staff at Easterseals headquarters, we decided to do some of our own research in light of April as Autism Acceptance Month and the Week of the Young Child, also in April. Chatting with my coworker Robyn Pike gave me a sneak peek into the life of a new mom.

Robyn and her husband Matthew are from Lombard, Illinois. Their first child, Reagan Geraldine Pike, was born in November 2013.

We talked on and off the record for a bit. It went like this:

Me: What was your pregnancy like?
Robyn: Oh! It went pretty smoothly. I was sick for the first six or seven months but some people have it much worse.

I nearly choked on my mouthful of water! A stomachache-like feeling, no appetite, nausea…for 7 months! Robyn quickly reassured me that it was worth it. At first, Robyn said, the experience felt unsure, like the pregnancy wasn't real yet. It all changed when she felt the flutter of Reagan moving for the first time.

They do their research
Once it felt real, the Pikes did as much research as they could prior to Reagan's arrival, from baby products and feeding options to pediatricians and daycare providers.

While she does a lot of her own research, Robyn often turns to her mom, Carol, or mother-in-law, Wendy, for advice. One of the most common questions new moms have is when to bring their child in to the doctor. That's why the Pikes chose a pediatrician they felt comfortable asking questions and in an office where the nurses are on call 24/7 to advise. "I need more than a 9-5 pediatrician because a mom's job is 24/7." That makes sense to me!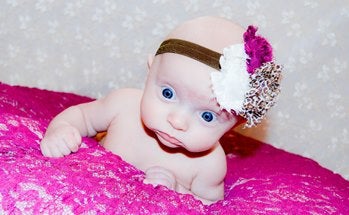 They're learning right along with their infant
Robyn and Matthew learn what to work toward with Reagan at each developmental checkup. Their doctor uses a checklist to see if Reagan is using her legs, arms and hands properly, holding her head up, etc. Afterward, they get a copy of the checklist with suggestions for areas of improvement and a list of things she's doing well. Robyn and I agreed every parent should come away with things to work on—it's not an indication something's wrong because each child develops at his or her own pace.

Of course, it's not easy—parents have to do their part in development, too. Robyn's homework is a journal where she keeps track of everything the doctor might ask for, like how much liquid she is getting, if she has been cooing more, or working on tummy time and sitting up.


Motherhood is serious business
Right now, Robyn is confident Reagan is developing on schedule, but she still plans to take the ASQ. She hasn't yet because she takes it very seriously, and wants to give Reagan time to meet some milestones before she begins to measure them. In fact, Easterseals recommends you start taking the ASQ when your child is between 6 months and 5 years old.

With the ASQ, Robyn believes her suspicions will be verified or discounted since it's a very trusted survey—it's the real deal. If Robyn notices something is off, she will call the doctor and push to figure out what is going on—she's not one to sit back and wait.

The ASQ is useful to new moms because it helps you learn the different developmental benchmarks and get in tune with your child's growth. Sometimes, things pop up you didn't know could be a concern. It brings up valid points of conversation with your health care provider and specific things to take action on.
Get more stories about moms and the unexpected issues they've dealt with at easterseals.com/earlyintervention