Major Milestones for a New Mom and Her Son
By Jackie Orihill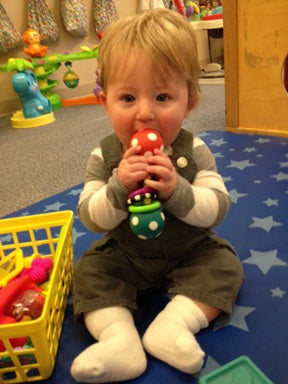 Up until September 2013, Lisa Hallen and her husband Kevin had never changed a diaper. Since having their son Ben, they've more than made up for lost diaper duty, and they're quickly learning with each parenting milestone. Dirty diapers, it turns out, are the least of the new mom's worries.
Both raised without siblings, Lisa and Kevin admit that there were other things they weren't exposed to when it came to parenting, but, in part because of that, they couldn't have been more excited to start a family and experience it all, from the first poop to the last bottle.
"I had no idea what to expect," says Lisa. "I envisioned giving birth to a toddler and that we'd go everywhere together, no problem. I was a little naive."
For any new parent, a child's development can seem like a series of surprises. Every child is different, and many moms struggle with understanding what's typical—in general and for their own child.
For Lisa, while her expectations may have been murky, the reality has been fascinating and fun. "I can see Ben trying to figure things out. If I look at him while talking to him, I see him move his mouth like me, as if he's trying to figure out how to talk," she says. Plus, Ben has become a "rolling machine" and has gotten up on all fours. "I see him figuring stuff out and trying to crawl."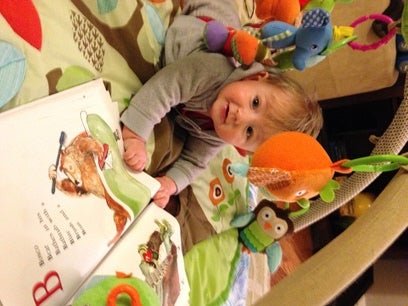 While they're thrilled to see Ben hit his milestones, they also worry like many parents. "I know the statistics can be scary, but I'm not as worried [about potential developmental issues] because I work for Easterseals and I see the things we can do. I see the kids we've helped, especially kids with Autism Spectrum Disorder. We'd be on top of it. I'll watch for the signs and, if needed, take action," she says.

One way she watches for signs is through the free Ages & Stages Questionnaire® (ASQ), a 20-minute developmental screening that anyone can take online to learn if they're child's development is on track. If there are signs of a potential issue, an email would notify you.
Lisa doesn't want to ever convince herself her child's development is on track if it's not and miss the opportunity for professional intervention. To ensure she knows when to seek help, like when she noticed Ben's left eye wandering, she leans on girlfriends for advice and the experts at the Easterseals childcare center that Ben attends. "It's nice to have a village," says Lisa. In fact, Ben's teachers at the center use the ASQ to monitor the children's development.

Easterseals is a part of that village, for every new mom. That's one reason why we feature the ASQ as part of the Make the First Five Count campaign. It's recommended for all parents with children ages 5 or younger, and first-time parents like Lisa and Kevin have used it as a guide.

"The ASQ gave me a good idea of what to look for. There was, for example, a question about whether or not Ben was banging things together yet. I never thought of that as a milestone! So I started working on that with him and giving him the opportunity to, well, bang things together."

As of now, Lisa and Kevin feel confident that Ben is healthy, but they know parenthood is unpredictable. "Every parent has stuff to deal with that they didn't expect," she says. "There's a fine line between panicking and being too laid back, and the ASQ helps us find that balance."
Learn more about your child's development.