Community Based Individual Support Program (CBIS)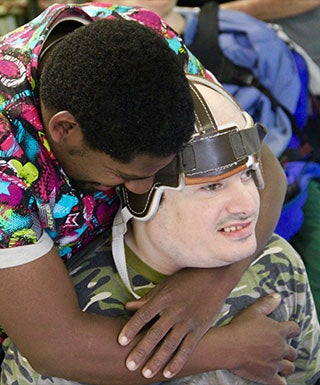 This program provides direct support or assistance to individuals with developmental disabilities through a Direct Support Professional (DSP) on a one-to-one basis and can be provided in the individual's home or out in the community. Our DSPs work with an individual to achieve or maintain the outcomes that have been identified in their Service Plan. Their role may involve activities like cooking, bathing, recreational activities, community outings, or transporting from home to work to name a few. They are there to provide individuals and families with a guiding hand.
Easterseals makes it a priority to match DSP candidates to family/consumer desires and ensures high quality service through the hiring and training of staff that are adaptable, flexible, and with a wide-range of skills. DSPs are required to attend training in CPR, first-aid, crisis management and more. They also participate in training through the College of Direct Supports that includes, but is not limited to: HIPAA regulations, positive supports, maltreatment prevention and response, Danielle's Law, cultural competence, individual rights and choice, and positive behavior supports.
As the former official Fiscal Intermediary for the state, we remain engaged in active conversations with families who partake in the service. In response to their expressed desire for us to employ and manage the direct support professionals who provide their care, we have newly launched the Community-Based and Individual Supports (CBIS) program.
Our goal is to provide a valuable service to individuals and families that align with our core values of warmth, expertise, and respectfulness and meet and exceed your expectations.
Family/Individual input and feedback is very important to Easterseals also.

If you are a family member or consumer seeking additional information about CBIS or want to express interest, please contact: 732-812-6130 or CBISconsumerhelp@nj.easterseals.com
If you are interested in learning more about becoming a direct support professional (DSP) please contact 732-812-6083 or CBISemployeehelp@nj.easterseals.com
You can also visit our Careers page to apply for open positions.
Last updated: October 16, 2017