Events
Working Together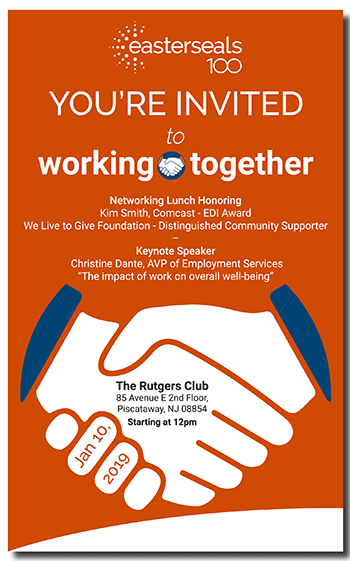 Thursday, January 10th
Starting at 12pm
The Rutgers Club
85 Avenue E, 2nd Floor
Piscataway, NJ 08854
Come celebrate employment opportunities for people with disabilities and special needs. At this event we'll be featuring vendors and guest speakers at the Rutgers Club on January 10th. It'll be a time to listen, learn and act so that employment becomes an opportunity for all.
---
Recent Happenings
Deaf Connections
Saturday, November 17, 2018
10:00 AM - 3:00 PM
Kean University, Downs Hall
1000 Morris Ave. Union, NJ 07083
Come out to Kean University on November 17th to take part in our Deaf Connections event, a celebration and education about deaf culture. Matt "The Hammer" Hamill will be there as well as comedian, Keith Wann.

Free Event! Register today: eastersealsnj.org/deaf
The New Jersey Conference on Disability and Employment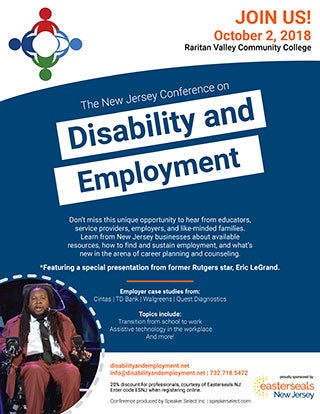 Tuesday, October 2, 2018
Raritan Valley Community College

Don't miss this unique opportunity to hear from educators, service providers, employers, and like-minded families.
Learn from New Jersey businesses about available resources, how to find and sustain employment, and what's new in the arena of career planning and counseling. Proudly sponsored by Easterseals New Jersey and featuring several staff experts from our organization.

*Featuring a special presentation from former Rutgers University star, Eric LeGrand.

Contact: disabilityandemployment.net
info@disabilityandemployment.net | 732.718.5472

20% discount for professionals, courtesy of Easterseals NJ:
Enter code ESNJ when registering online at the above address.
Manufacturing Day Open House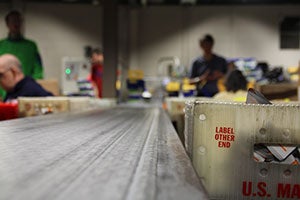 Tuesday, October 2nd, Millville
Thursday, October 4th, Raritan Valley Work Center
Visit our warehouses, tour our facility, learn more about our packaging abilities, and more!
NJ Disability Pride Parade, Trenton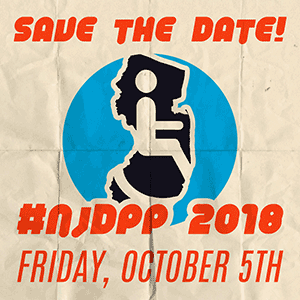 Friday, October 5th
Hundreds of people and organizations representing a wide variety of disabilities will march and roll from the
NJ State House Annex to the celebration site at East Lafayette Street Njdisabilitypride.com
Easterseals 4th Annual Tricky Tray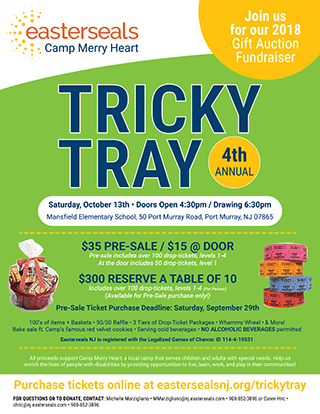 On October 13th, it's Tricky Tray time! We're hosting a tricky tray to help support our very own Camp Merry Heart where there will be a chance to win amazing prizes all while supporting an excellent cause.

$35 PRE-SALE / $15 @ DOOR
Pre-Sale Ticket Purchase Deadline: Saturday, September 29th
Buy tickets online!

100's of items + Baskets | 50/50 Raffle | 3 Tiers of Drop-Ticket Packages | Whammy Wheel | & More!

All proceeds support Easterseals Camp Merry Heart, a local camp that serves children and adults with special needs. Help us enrich the lives of people with disabilities by providing opportunities to live, learn, work, and play in their communities!

FOR QUESTIONS OR TO DONATE, CONTACT: Michelle Marzigliano - MMarzigliano@nj.easterseals.com - 908-852-3896 or Caren Hric - CHric@nj.easterseals.com - 908-852-3896
Camp Merry Heart Service Club Day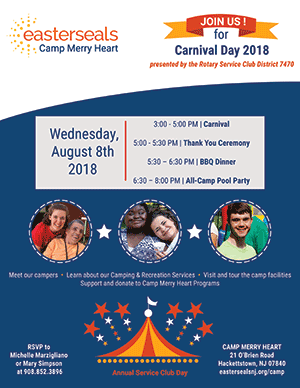 Wednesday, August 8th
21 O'Brien Road, Hackettstown, NJ 07840
Presented by Rotary Service Club District 7470 | RSVP, call 908.852.3896 or email camp@nj.easterseals.com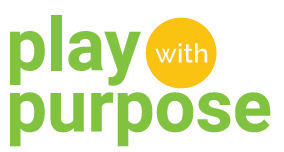 Join us April 28th at the NEW event hosted by Easterseals New Jersey!

PLAY WITH PURPOSE
Leveling the playing field for people of all abilities

Sportika – Manalapan, New Jersey

Play With Purpose features a series of recreational, athletic, and FUN activities suitable for individuals of all ages and abilities. We believe fun is an important part of living a full and gratifying life and that everyone should have the opportunity to experience it.

This event will take place in lieu of Walk with Me. Your support of our very first Play With Purpose event is very much appreciated.
MORE INFORMATION AND ONLINE REGISTRATION
Last updated: January 7, 2019