Aiden Hadley, 2017 Easter Seals Ambassador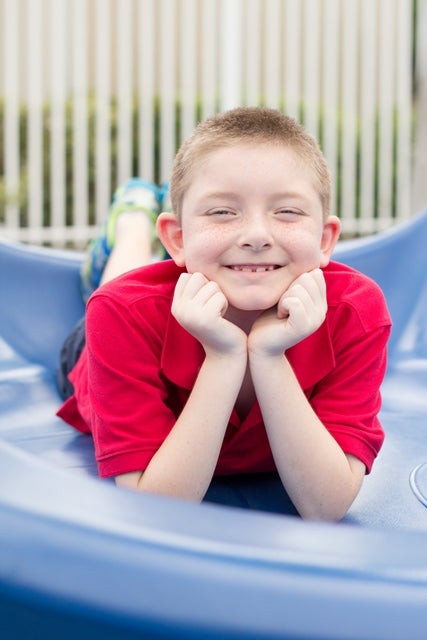 Aiden Hadley's light began to shine the moment he was born on March 13, 2008, and it continues to radiate today as he's named the newest Easter Seals Ambassador.
Let's take a moment to bring you up-to-speed on this amazing boy, and you'll see why he's been chosen to represent Easter Seals as we redefine disabilities in the 21st century.
Aiden is a third grader at Ormond Beach Elementary who's hungry for knowledge, independence, friendships and fun. Like most eight-year-old boys you've met, he loves Legos and Minecraft, and even makes movies in front of a green screen! His imagination is limitless.
It turns out that Aiden is limitless, too. Although he was born with several visible and invisible challenges, Aiden has always been up to the task of working hard to embrace them, and with the help of Easter Seals, has become the best version of himself.
Aiden has worked with Easter Seals therapists since he was an infant, and was first treated for symptoms of Poland syndrome -- rare birth defect noted by the underdevelopment or absence of the chest muscle on one side of the body, and usually webbing of the fingers of the hand on the same side. His treatment began with physical therapy, and through the years, the team at Easter Seals supplemented his treatment with occupational therapy as Aiden learned how to work and play through the symptoms of scoliosis and Elhers-Danlos Syndrome, a connective tissue disorder.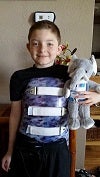 Today at Easter Seals, Aiden receives several types of therapies: aqua, occupational and physical. His mother, Tammy, says Aiden enjoys all his therapies very much, but his favorite activities are jumping rope in physical therapy, and playing soccer with any therapist he can persuade to play with him.
Easter Seals therapists have helped Aiden build stronger muscles to help him need as little support from orthotics. He uses a manual wheelchair for distance, and has a back brace, knee brace, and shoe inserts for support.
Tammy believes Aiden has held on to this mobility with the help and support of Easter Seals. She says Easter Seals has not only helped Aiden improve in areas of weakness, they also have made her family feel like they have a support system, and a place to turn to for comfort and compassion. "I feel like Easter Seals is a part of our family," says Tammy, "They are our own personal cheerleaders."
Through the programs at Easter Seals that have been designed to help Aiden learn basic functions and master skills needed to develop and thrive, he continues to be defined not by his conditions, but by his love of learning, his willingness to rise to challenges and his positive attitude. He reminds us all that none of us are our physical conditions – but that they can be dealt with as a part of everyday life.
Today, Aiden is mastering the most important skills an eight-year-old can master: how to play, be a friend and be confidently himself.
"He's comfortable with who he is, and his confidence has boosted so much that he can now approach new people and build new friendships," says Tammy. "He has the strength to play and interact with his peers because he is receiving the very best care possible."
This is a remarkable young man. And it's our honor to introduce you to Aiden Hadley, our newest Easter Seals Ambassador.