For Immediate Release
Easter Seals deaf advocate earns National Interpreter Certification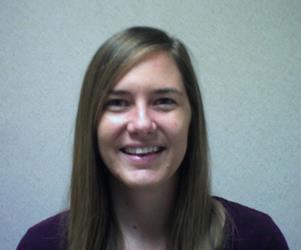 Danielle Porter, Easterseals Northeast Central Florida' Deaf Advocate, has passed her National Interpreter Certification (NIC). With the certification, Porter becomes one of fewer than 280 nationally certified interpreters in Florida, and one of approximately 15 such professionals based in Volusia and Flagler Counties.
Holders of this certification have demonstrated general knowledge in the field of interpreting, ethical decision making and interpreting skills. Candidates earn NIC Certification if they demonstrate professional knowledge and skills that meet or exceed the minimum professional standards necessary to perform in a broad range of interpretation and transliteration assignments. This credential has been available since 2005.
In addition to her position with Easterseals, Porter is a practicing sign language interpreter and adjunct professor at Daytona State College. She earned her bachelor's degree in Sign Language Interpreting from the University of South Florida. Porter was intrigued by American Sign Language as early as the age of 15 when she learned a few signs at her local library. She grew to love the practice and developed a passion for serving the Deaf community.

For more information about the Easter Seals Deaf Advocacy Program, contact Porter via Videophone at 386-310-1157 or dporter@esvf.org.
About Easterseals Northeast Central Florida: For more than 60 years, Easterseals Northeast Central Florida has provided services to help children and adults with disabilities and/or special needs as well as support to their families. In Volusia and Flagler counties, Easterseals directly serves more than 11,500 children and adults with disabilities with therapy, education, advocacy, recreation and support services. To connect locally with Easterseals, advocate or explore resources, call 386-255-4568 or visit www.eastersealsnecfl.org.