For Immediate Release
Austin Brownlee named Easter Seals' Chairman of the Board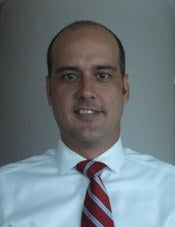 Austin Brownlee, Brown & Brown vice president, Daytona Beach, has been named Chairman of the Board at Easterseals Northeast Central Florida.
"I'm grateful to work for an employer that encourages and supports its employee's leadership opportunities in the community," said Mr. Brownlee, "and I'm thrilled that my support of Easterseals will continue in this vital role."
Mr. Brownlee has served on the Easterseals board since 2011. His additional leadership roles are as a member of the Embry-Riddle Athletic Association, and a board member of Volusia County Fellowship of Christian Athletes (FCA).
Mr. Brownlee is a graduate of Embry-Riddle Aeronautical University where he was a member of the basketball team, and later was assistant coach of the school's basketball team during its National Championship year in 2000.
"One of my goals with Easterseals during my tenure as Chairman is to continue our efforts with the vision that all individuals with special needs and their families have equal opportunity to live, learn, work and play in their community," he said.
"Easterseals is responsive and vibrant, and works every day to change the way the world defines, views and treats disabilities. I'm proud to be a part of that."