Fall Extravaganza
Join Easterseals Louisiana for a Day of Accessible Fun!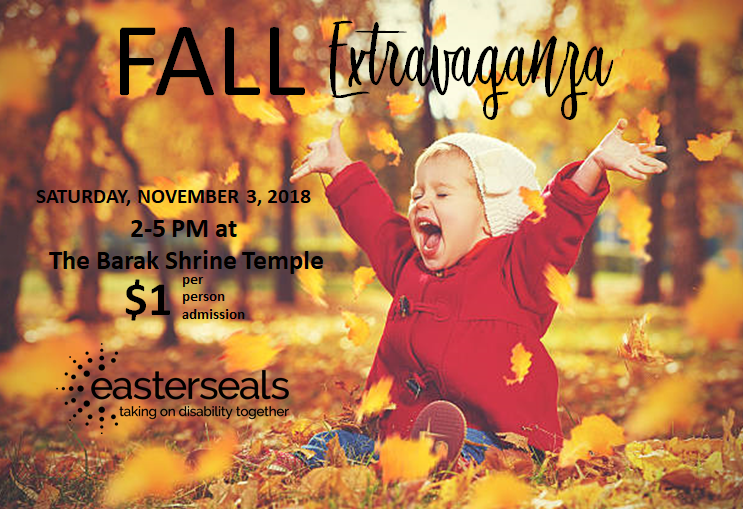 Join Easterseals Louisiana and the Barak Shrine Temple of Monroe, Louisiana for our first ever Fall Extravaganza!
Come out to the Barak Shrine Temple on November 3, 2018 from 2-5pm for carnival games, food, music, crafts and so much more! This event is open to the community and is accessible for those of all ages and abilities. Admission is just $1 per person and includes food and games - so bring your friends and family out for a day of fun!
Do you want to sponsor this event?
Help Easterseals Louisiana make this community outreach event a success and become a sponsor today! Your donation supports accessibility and inclusion in Monroe, Louisiana. All proceeds from this event benefit children and adults with disabilities in Louisiana.
$500.00 - Plantinum Sponsorship Level
Name/logo on activity table at event
Name/logo on website
Opportunity to supply company giveaways in take-home grab bags
Name/logo shared on social media
Name/logo on banner at entrance of event
$200.00 - Diamond Sponsorship Level
Name/logo on activity table at event
Name/logo on website
Opportunity to supply company giveaways in take-home grab bags
Name/logo shared on social media
$150.00 - Gold Sponsor Level
Name/logo on activity table at event
Name/logo on website
Opportunity to supply company giveaways in take-home grab bags
$100.00 - Silver Sponsor Level
Name/logo on activity table at event
Name/logo on website
$50.00 - Bronze Sponsor Level
Name/logo on activity table at event
You can now purchase your sponsorhsip via PayPal:
For more information, please call MacKenzie Morgan at 318-221-8244 or email mmorgan@laeasterseals.com