Inspiration Through Art
Submit digital photos of your artwork by August 18!
We're looking for masterpieces to display in our next "Inspiration Through Art" exhibit Sept. 5-Dec. 20 at the Easterseals Rehabilitation Center! It's an opportunity for area artists of all abilities to show their work AND for children and adults with disabilities to gain "Inspiration through Art." We display two-dimensional artwork for approximately four-month periods, rotating the work three times a year. Artists may price their pieces if they choose. There is no entry fee. The Walker Display hanging art display system is in the main hallway of our facility, and many clients and visitors view the work. We ask that the art be appropriate for children to see. Click here for rules, guidelines and a printable version of the required submission form. If you prefer, you may complete the submission form online. Digital photos of artwork must be submitted separately to art@evansvillerehab.com.
Calendar
July 17, 2017: Prospectus Released, Registrations Accepted
August 18, 2017: Registration Deadline with digital submission to art@evansvillerehab.com*
August 23, 2017: Email Notification of Acceptance to Artists
August 28 & 29, 2017: Artwork Drop-off (or other dates around that time by arrangement)
September 5, 2017: Exhibit Opening
December 20, 2017: Close of Exhibit
December 21 & 22, 2017: Artwork Pick-up
*The next submission deadlines will be December 8, 2017 and April 13, 2018.
All exhibit calendar date requirements will work within the hours of the Easterseals Rehabilitation Center, Inc. The hours of operation are Monday through Friday from 8am-5pm. The center is closed on Saturdays and Sundays. Special arrangements may be requested and will be accommodated if possible.
Rules
1. All entries are subject to be juried. Decision of juror is final.
2. All entries must be original works.
3. Only digital submission will be accepted. Submit entries to art@evansvillerehab.com.
4. All work must be ready for display. 2D pieces only, please. If you need assistance or advice about wiring your piece, please call the Arts Council at (812) 422-2111.
5. Entries will be accepted from people of all ages and abilities.
6. All entries will be handled with care. However, the management of the exhibit and Easterseals Rehabilitation Center, Inc. will not be responsible for any loss or damage, and any insurance is the responsibility of the exhibiting artist.
7. Easterseals Rehabilitation Center will provide a 3 ½ " x 2" identification holder and card for each piece in the exhibit.
8. This exhibit does not have a theme for the subject matter of the work; however, all pieces should be appropriate for all ages.
9. By entering the exhibit, each artist is agreeing to the Easterseals Rehabilitation Center's Hold Harmless and Sales agreements listed in this document. If you have questions, please email art@evansvillerehab.com or call Kelly Schneider, Easterseals Rehabilitation Center at (812) 437-2612.
a. Hold Harmless Agreement: Submission of this application and the piece(s) represented, shall constitute an agreement on the part of the artist to comply with the conditions set forth in this prospectus, including the following: I hereby release and discharge Easterseals Rehabilitation Center staff and board from any and all claims occasioned by damage or loss of art while in the possession of the Easterseals Rehabilitation Center. No work accepted for the exhibition may be withdrawn prior to the close of the exhibit. Permission to reproduce the work for publicity, documentary or educational purposes is hereby granted.
b. Sales Agreement: All artists will have the opportunity to make their work available for sale. (This is not required.) In the event of a sale, 80% will be dispersed to the artist and the Easterseals Rehabilitation Center will retain a 20% commission. (Income raised through these commissions will primarily be used to fund future art workshops and materials for people with disabilities.) Please keep this in mind when pricing your entries. It is encouraged, but not required, that entries be for sale. If you do not want to sell your work, please put NFS on the registration form when asked for pricing information. All sold pieces will remain on display until the end of the exhibition period, at which time pickup will be available. Artists will be reminded of the pick-up dates. Any pieces not picked up within 30 days will be considered abandoned, and will be disposed of at the sole discretion of the Easterseals Rehabilitation Center.
Many of the people we serve with disabilities receive therapy services and attend appointments at the Easterseals Rehabilitation Center at 3701 Bellemeade Ave. in Evansville. In many cases, they attend at least once a week, every week for extended periods and some clients will receive services for many years. We are focused on making our facility reflect the great work our therapists are doing and finding ways to educate and engage our clients in community resources and activities. One great way to do that is through art! We installed a hanging art display system to give our local artists an opportunity to display their work in a public facility that has significant daily foot traffic and offer people with disabilities exposure to high quality art. We expect that they will develop greater appreciation for art and even develop an interest in completing quality art projects themselves.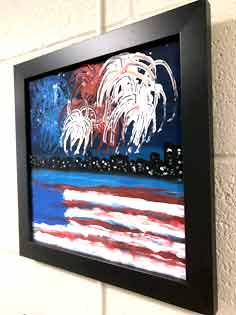 For the budding artist
Easterseals is excited to announce "Gogh For It," a series of three art workshops for the budding artist, thanks to a generous grant from The Arts Council of Southwestern Indiana. Our goal is to educate and assist people with disabilities and others who are interested in completing their own artwork. This project is part of our ongoing commitment to empower people with disabilities to engage in meaningful activities that improve their self-esteem, offer meaningful activities and potentially offer revenue opportunities for them.
We are currently seeking five volunteer committee members for the Gogh For It workshops. The committee will meet once a week until the workshops - tentatively scheduled for the fall - and help out the days of the workshops. The workshop will accommodate up to 25 children of all abilities.
To volunteer for Gogh For It, either by serving on the committee or at the workshops, call Jaclyn at 812.479.1411, ext. 281 or email art@evansvillerehab.com.