Camp Challenge Ropes Course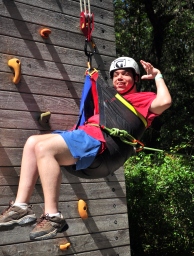 Our teambuilding program offers tools to improve:
Communication
Problem Solving
Team Relationships
Productivity
Performance
Trust
Leadership
The goal of Team Challenge is to strengthen and empower teams in an exciting outdoor setting. The Low Course consists of a carefully orchestrated set of physical and mental activities and challenges for groups to attempt as a team. These activities compel the group to work together to overcome the challenge and therefore build a renewed sense of unity and success.
After the group has completed the sequence of Low initiatives, groups can choose to experience the High Course. This Course focuses on the individual's emotional and physical insecurities, helps them set and complete personal goals and fosters perseverance, risk taking, and motivation. The group acts as an emotional support for the individual who is climbing the element, putting to use the skills developed on the
Low Course.

Rental programs of the Universal Ropes Course can last as little as three hours or as long as one day. The cost of these programs will vary with the number of participants, meals, activities, and length of stay.
The "Ties That Bind, Inc." company will be facilitating our Team Challenge course. Their professional, certified, highly trained members will design and implement a program to fit your group's specific needs.
If you have any questions or to set up your next team building event, please visit the Ties That Bind, Inc. web site here: http://www.tiesthatbind.biz/.
To rent Camp Challenge for your next program, please view our Rental Opportunities. Let us assist you in planning time at Camp Challenge to meet your every wish.
31600 Camp Challenge Road ▪ Sorrento, FL 32776
camp@fl.easterseals.com ▪ (352) 383-4711