Traveling to Washington DC with a Disability
By Ben Trockman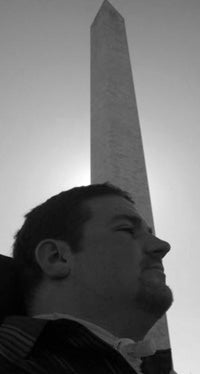 Washington, D.C., is a spectacular city, and I enjoy every single time that I have a chance to travel to our nation's capital. Although, having to drive from Evansville, Indiana, to D.C. – a 12-hour drive – isn't the most pleasant thing in the world, finally making it to the capital is incredible. (I don't fly. It's too much trouble with my wheelchair, but that's a story for another day.)

Washington, D.C., however, isn't too much troble at all. In fact, it's amazing. The city is immersed in history, and anyone who has the opportunity to spend a little time in Washington, D.C., should jump on the opportunity, by wheelchair, by foot, however you can.
Riding up the elevator up to the platform, and sitting in front of Abraham Lincoln, and staring at the Reflecting Pool with the Washington Monument and Capitol Building in the background is one of the most breathtaking views I've ever seen.
My first time visiting the Lincoln Memorial, I spent at least an hour staring out into the distance, marveling at the city. To know that these monuments were created – built in perfect alignment throughout the city – so many years ago, with deep history and meaning, got me to imagining what it was like when they were built: it's marvelous.

I have been to many cities in the United States – in my power wheelchair – and Washington, D.C., happens to be one of the more accessible cities on the list.
Curb Cutouts
One of the simplest yet important aspects of the city being accessible is the ability to easily find a good curb cutout. I am happy to inform you that during my travels in D.C. – from one side of the capital to the other – I had little-to-no trouble finding any curb cutouts. Other than the occasional road construction, it is easy to navigate through the traffic and up to the sidewalks heading towards the destination.

Curb cutouts = Check
Sidewalks
When mentioning curb cutouts, let's not forget the importance of what those cutouts lead up to – the sidewalks. There are many cities out there that have terribly bumpy sidewalks for a wheelchair, but – for the most part – D.C. is not one of them. When traveling throughout the city, it is a pretty darn smooth ride, no matter where you are traveling. Your travels could be from in front of the White House, around the Washington Monument, past the Lincoln Memorial, or even traveling up to the road to the Capitol Building.

Smooth sidewalks = Check
Metro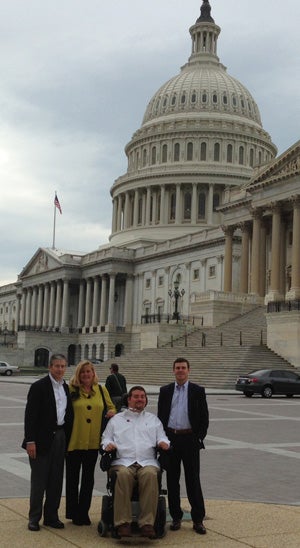 Now, I am from a smaller city, and I am used to traveling the city in my accessible van, but many times this is unnecessary in D.C. The Metro – although you shoud check out the Metro map to figure out where in the world you are going first – is a very accessible transit system to me.

The only problem that I had with the Metro was finding the right elevator to go to the appropriate platform to catch the train. If you do your research – or have someone who knows where they are going with you –you're not going to have any trouble accessing the Metro system.

The platforms leading onto the trains are very nice, and the entrance from the platform to the train itself is very smooth. Make sure to be prepared for a quick takeoff and stop when traveling from stop to stop, but overall it's a smooth transition.

One warning would be to make sure you are keeping watch on the closings of elevators, which they post on notification screens all around the platforms. Many times elevators throughout the Metro system will be under construction, or out of order, and that will make getting back up to street level very difficult.

So, watch for the elevator closings, and make sure you know where you are going. But, overall I would have to say the Metro is a clean, easy and accessible system for transit.

Metro = check
Must-See Attractions
I would first find a parking spot close to one of the monuments listed below, then you can handle – as long as you're okay walking/rolling distances – the sidewalks, even if they're a little bump here and there.

The White House – easy access around the White House by roads and sidewalks. Although, seeing the front of the White House is very cool, taking a trip around to the South Lawn is the preferable view in my opinion.

Washington Monument – can get there from the White House via sidewalks, and is easy to maneuver all around the Monument on sidewalks.

World War II Memorial – in between the Washington Monument and Lincoln Memorial, this is also easily accessed via sidewalks.

Lincoln Memorial – this is one end of what they call "the Mall" area in D.C. – with the other end being the Capitol Building. Again, easily accessed from all areas via sidewalks.

Reflecting Pool – in between the Washington Monument and Lincoln Memorial, there are sidewalks that surround the Reflecting Pool, which is a great place to rest for a spell and just people watch and look at the view.

Capitol Building – on the other end of "the Mall." You would have to drive a vehicle – too far to walk or roll your wheelchair – from the aforementioned monuments to visit the Capitol Building. This is one of my favorite buildings, and you can travel around the front of the building to take pictures very easily, thanks to a large walking area directly in front of the building.
Hotels and Staff
Obviously, when you are taking a trip out of town, you are going to have to find a hotel that is accessible. Again, I am happy to report that I have had no trouble finding a hotel that could assist with anything that I needed.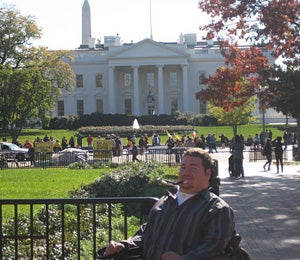 There are cities out there that you hear about how rude the people are, and how no one will go out of the way to help you, but I have not had one experience like that while in Washington DC. The hotel – I have stayed at the Capital Hilton on the corner of 16th and K Street – has been very accommodating, easily accessible, and all of the people have been tremendously kind.

Although, the rooms are a bit small at this particular location, and for some reason the bar area in the lobby is raised, causing for one in a wheelchair to have to use a small elevator to make it into the bar, my overall experience has been very good at the Capital Hilton. I suggest taking the time to research perspective hotels, and then – once making a decision – call ahead and make sure all of your accessibility needs will be taking care of, or addressed.

One last note: if you are like me – a quadriplegic – the necessity of using a Hoyer lift to get from your chair to the bed is imperative. Therefore, you need to call the hotel and make sure that the beds in the rooms are on legs, and not on a platform. If the bed is on a platform, then you cannot roll the Hoyer lift underneath the bed, and you will not be able to make it in. This has happened to me on a few occasions – and let me tell you – changing your room at the last moment is no fun.

Overall, my previous four experiences in Washington D.C., at this particular hotel have been good, and I have no doubt that with the proper research you can find a hotel to fit your needs.

Accessible hotels and pleasant staff = check

Overall, if you are traveling to Washington, D..C to check out the museums, visit the numerous incredible monuments, or if you are taking the time to storm Capitol Hill to meet with your legislators, I don't think you're going to have any trouble fighting any accessibility issues. I just completed my fourth trip to Washington, D.C., and I continue spreading the word of how magnificent the city truly is. Every time I leave, I find myself wanting to go back and experience more of what the city has to offer.

In my opinion – for what it's worth:

Washington D.C. = check
Learn more about Easterseals' transportation services and advocacy.
Have your voice be heard! Follow what's happening in Washington, D.C., at Easterseals.com/advocacy.

About Ben Trockman
Ben Trockman knows a thing or two about traveling with a disability. In 2006, Trockman was involved in a motocross accident that left him paralyzed from neck down. Since the accident, he has refused to let the barriers of travel stand in his way, but he is also been very vocal about changes that need to improve travel for individuals with disabilities. During the long road trips with his family – including trips to Washington DC, Baltimore, New York, Philadelphia, New Orleans, San Diego and Chicago – it was realized that airlines were not equipped for his special needs, and the barriers of airline travel have prevented him – and countless others with disabilities – from flying.
In 2013, Ben drafted an Accessible Airlines Proposal and took his determination to improve the airlines to Washington DC. After meeting with numerous congressmen and women, as well as Department of Transportation officials, Ben continues his mission to achieve the ultimate goal of barrier free air travel, while also continually advocating for disability related issues and policy. Ben's a regular blogger on our Easterseals blog.