Finding Love With Autism: Anita's Side of the Love Story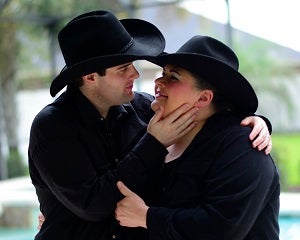 Anita and Abraham were married in September 2015 at an All-Autism wedding, which you can watch now. Together, they are inspiring many people with autism and encouraging them to know that love and relationships are possible. Featured here is Anita's side of their love story. Also be sure to check out Abraham's "He Said" take on their story.


1. How did you know you were in love?
I had adopted a huge white bunny rabbit, and ordered a bunny hutch on line for him. When the box arrived, it sat for a few weeks in the box, as I'm not very good at assembling things. I finally realized I'd never even open the box! I asked Abraham if he would be kind enough to assemble it for me. We had been friends for quite some time already. I brought the box to his home, and over the following week he put it together. I came with my truck to pick up the bunny hutch, we loaded it up then drove back to my house. It was a beautiful, cool night, and all the stars were twinkling in the sky. After taking the hutch off the truck, Abraham started looking into my eyes. He then moved towards me, put his arms around me, and gently pulled me against him. There, under the light of the moon, is where I fell in love with him. The feeling was so intense, so unexpected, that I couldn't tell where my body ended and his began. We remained embraced in each other's arms for what seemed like an eternity. I felt like I never wanted to let him go. It was a "forever" feeling.
2. What kinds of challenges, and benefits, did autism pose as you got to know each other and started falling in love?
Due to very unusual circumstances, we had to conduct our courtship in total secrecy. He lived at home with his mother at that time, and did not yet drive. Fortunately, Abraham started working at a land surveying company which was owned by good friends of mine, Bill and Vickie. We started an Underground Railroad, and with Bill acting as the Conductor, he enabled Abraham and I to have time together once a week. What was often like scenes from a movie, this continued for months. During our meeting, we would talk for hours yet it seemed like time stood still. Because Abraham and I both had a lifetime of loneliness and suffered bullying, harassment, and rejection, finally finding someone who understood me, accepted me, and loved me, made it all the sweeter. I see society as the "throw away generation," meaning that people don't seem to try very hard to make relationships work. They simply walk away from the person and go on to the next person. We were so grateful for finding each other, and treasured it far more than most people ever would. So I would say that having autism enabled us to have a great relationship!
3. What is your favorite quality of your spouse?
My favorite quality about Abraham is that he accepts me as I am. Being different and never fitting in anywhere for my whole life, I deeply treasure to be fully, and unconditionally accepted for who I am.
4. What is the hardest part of being married, and how do you handle it?
The hardest part of being married is our hectic work weeks. I have a very demanding job as a Certified Registered Nurse Anesthetist. I'm in the operating room at 5:45 am Monday through Friday. I have to get up at 3:30 am. Abraham doesn't have to get up that early for his
job as an AutoCAD Draftsman, but he wants to get up with me. So we get up together, and while I'm showering, doing my makeup, and getting dressed, he's making our breakfast and assembling our lunches. We eat only very healthy foods, made from scratch, which necessitate cooking. We grocery shop on the weekend, and plan out our meals for the week. Cooking in advance is done on Sundays, and all food is ready to easily assemble into healthy meals for the week. This all takes a lot of teamwork and planning. Like everything else, we grocery shop together and cook together. We make it all into a fun time!
5. What's your advice to parents of children with autism who are concerned that their child may not be able to find love and get married?
My advice to parents of autistic children is multi-faceted regarding love and marriage. First, think more positively! Their autistic child will certainly one day find love and marriage. I've met many parents who have made the statement that they can't accept their child's autism. While I can understand their feelings, I get upset to hear that. Parents need to realize that over time, as their child matures, and becomes an adult, their "symptoms" will lessen. No, autism can never be "cured,", but you definitely get better over time. Twenty years ago I certainly wasn't the person I am today. The parent can certainly help enable their child to have a successful future and life. This can best be done by simply getting the child out into the world, to interact with people, get involved in a sport they enjoy, a special interest the child has. Anything that provides the child endless opportunities to learn how to communicate and interact with people. That will set the foundation for their child's life, not only for love and relationships, but for a career as well.
6. Why did you have an All-Autistic Wedding? Would you recommend it to others? Why?
Abraham and I made the decision to have an All-Autistic wedding and open it to the public to bring awareness that autistic people have the same need for love, relationships and marriage just like everyone else. For me, personally, I know that I could only have a successful relationship with another autistic person. I wanted the entire wedding party to be on the spectrum as well. Autistic people rarely get invited to anything like parties. I wanted to give an opportunity for others like us to be part of this history-making event. We all felt a strong bond because we all know what it's like to be autistic, and we thus shared a strong comradery. Neurotypicals regularly get to experience things like clubs, fraternities, sororities, etc., things that we never would be part of. Our All-Autistic wedding "I Do Crew" gave this opportunity for our people to experience. Yes, I'd certainly recommend it to other autistic couples to do as well.
Read more about dating advice for people on the autism spectrum
Check out two couples' takes on being married for 50 years