Military Caregiving Webinar Series

Registration closed : El registro ha cerrado
Easterseals presents our next webinar in Spanish!
Título:
Operation Family Caregiver : Cuidando al Cuidador
Fecha: Jueves, Abril 6, 2017
Tiempo: 1 a 2 PM Centro (2 a 3 PM Este / 11 AM a 12 PM Pacífico)
Oradora invitada: Jocelyn Merino, MSW, ASW
Becaria de la Fundación de Elizabeth Dole: Izabelle Meda-Gibson
Traido a usted por Easterseals
**** Diapositivas de la Presentación ****
El cuidado de un ser querido puede despertar muchas emociones. Cuidando a alguien que amas puede ser gratificante y exigente. Es difícil entender que su ser querido ya no es la persona que una vez fue. Muchas veces los cuidadores expresan sentimientos de pérdida de una relación, un compañero y la independencia. Es importante entender que usted está sufriendo estas pérdidas y darse permiso para cuidarse a sí mismo. Operation Family Caregiver es un programa para cuidadores que ayuda con los retos de ser cuidador de veteranos o miembros del servicio. OFC es un programa que tiene evidencia que enseña técnicas de resolución de problemas para identificar qué soluciones necesitan los cuidadores para disminuir los síntomas de depresión y la carga que puede ocurrir con el cuidado de una persona.
Oradora invitada:
Jocelyn Merino, MSW, ASW es consultora familiar y instructora de cuidadores en Southern Caregiver Resource Center, la principal agencia en servicios de apoyo para cuidadores familiares en el condado de San Diego. A través de su trabajo con el programa, Operation Family Caregiver (OFC), Jocelyn provee apoyo a cuidadores familiares que están cuidando a un veterano o un miembro del servicio con trastorno de estrés postraumático (PTSD), lesión cerebral traumática (TBI), o una discapacidad física. Ella también proporciona conserjería de individuo y grupos de apoyo, consulta, y educación a cuidadores familiares de aquellos que cuidan a alguien con una enfermedad progresiva. Jocelyn recibió su licenciatura y maestría en trabajo social de la Universidad Estatal de California, Sacramento.
Becaria de la Fundación de Elizabeth Dole: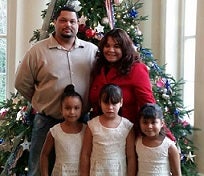 Izabelle Meda-Gibson es una de las becarias con la Fundación Elizabeth Dole de Arizona. Izabelle ha servido como cuidadora de su esposo, Alexandre durante la última década. Ella ayuda a su esposo, no sólo con la administración de su medicamento, sino también a reducir los factores de estrés que pueden convertirse en un episodio, el seguimiento de sus actividades diarias, a coordinar todas las citas médicas, a reducir su ansiedad, y mucho más. Alexandre sufre de trastorno de estrés postraumático severo, una lesión cerebral traumática leve y algunas otras condiciones. Izabelle y Alexandre han establecido la organización "Through Their Eyes" dedicada a ayudar a los veteranos y sus familias en recibir los recursos necesarios para prevenir la falta de vivienda. Izabelle se ha dedicado en la enseñanza de cuidadores sobre el cuidado personal, la necesidad del reemplazo temporal, y la importancia de encontrar apoyo. Ella está asistiendo a la escuela para obtener un título de Maestría en Psicología, su objetivo es algún día ser capaz de ayudar a los veteranos con grave TEPT a disfrutar de la vida.
---
Easterseals is honored to receive this award and is committed to caregiver education!

Caregiver Friendly® Awards are presented by Today's Caregiver magazine to celebrate outstanding books, media, products and services designed with the best interest of the family caregiver in mind.
This webinar series is brought to you by: