Meet Joshua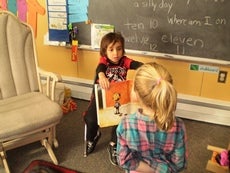 Today, Joshua loves learning, reading, and sharing his books and art projects with other kids. But Joshua wasn't always so dynamic. When he first enrolled in the Easter Seals Preschool Program for children with special needs, he was very withdrawn - and would cry that he wanted to go home, refusing to take off his hat, scarf, coat or backpack. He was still in diapers and asking for his bottle.
Through our partnership with the Jewish Community Center, Joshua's program includes spending part of each week in the JCC kindergarten classroom where he interacts with typically developing peers as preparation for life after preschool. In the beginning, this was so hard for Joshua. He cried and avoided the other kdis. Not anymore. With the help of our committed therapists and teachers, Joshua has come out of his shell. His favorite thing to do during "inclusion time" is to read on of his favorite books to the other kids.
This once shy and hesitant young child has begun to thrive. Joshua eagerly participates in activities, plays well with the other kids, is potty-trained, and learned how to read.
Joshua struggled with change and social skills, and he was challenged to reach important developmental milestones. The Easter Seals team saw his potential and believed in him, and now he's started believing in himself. His true personality - and his abilities - are shining through. We feel sure that Joshua is well on his way to a successful next step as a student in a typical kindergarten classroom next year.