Respite Services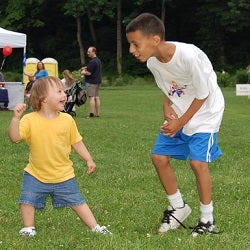 Easter Seals Eastern PA offers a number of programs that provide respite for families raising children (and adults) with disabilities and other special needs. We invite you to review our wide array of options and to try as many as you can. Our programs are designed to provide your loved one with a social and recreational experience AND provide you with a few hours, a day, or even a week to take care of other responsibilities, have fun or just recharge.
Saturday Respite: September through May:
We have two 6-hour Saturday respite programs that run from September through May of each year.
We offer respite programs in Reading, which meets the 2nd and 4th Saturday of each month (in general), and in Allentown, which meets the 1st and 3rd Saturday of each month. Both programs run from 10 a.m. to 4 p.m. Kids age 5 and older (plus their potty trained siblings) enjoy a mini-camp day. They play games, make and eat snacks, play sports (weather permitting), watch movies and have fun together while their families enjoy a day of respite.
Evening Recreation: September through May:
We have two evening recreation programs that run from September through May of each year.
In Reading, HangTime meets every Friday evening from 6 to 8 p.m. Teens enjoy getting together to socialize and participate in many different fun activities, such as dancing, parties, crafts, music, eating out, and just having fun.
In Bethlehem, Hangin' Out meets every Thursday evening from 6:30 to 8:30 p.m. Teens enjoy similar activities as HangTime, and can be found bowling, dancing, cooking, listening to music and hanging out.
Summer Camping:
We offer two day camps and one residential/overnight camp.
The two day camps include Camp Lily Berks and Camp Lily Lehigh Valley. Camp Lily runs for 6 weeks every summer, and is appropriate for kids aged 8 through young adult. The hours are Monday through Friday, 9 a.m. to 3 p.m.
The overnight camp is Growing Green. This camp is held on a beautiful campus in the Pocono Mountains and runs for 6 weeks each summer. Campers attend for one or more weeks each summer. Camp starts Sunday after lunch, and ends Friday after lunch. Campers must be at least 10 years old to attend.
Preregistration is required for all of our camping, recreation and respite programs. To find out more, email Katelyn Marte or call 610-289-0114x209.
Reading & Lehigh Valley Program Application