Grandparents & Special Friends Day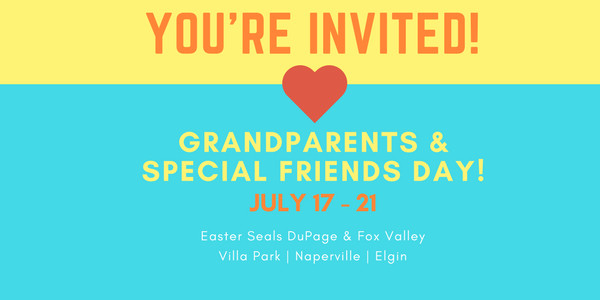 For many families, Easter Seals DuPage & Fox Valley is a home away from home where they have witnessed milestones, formed friendships and celebrated success.
We invite you to participate in Grandparents Day.
This is a special opportunity for a grandparent, relative or close friend to visit Easter Seals. Guests will observe therapy sessions, enjoy refreshments and take home a memento from the day. Best of all, they will see a special child in their life demonstrate their hard work and show off their latest accomplishments - big or small!
Invite your grandparent(s), relative or special friend to your regularly scheduled therapy session the week of July 17.

For a printable copy of the invitation, click HERE.

For an email version of the invitation, click HERE.
Type information on the lines provided
Click File, Save
Attach in an email to your grandparent or friend
Please complete this form to confirm your guest's participation at least 48 hours before your scheduled appointment.