Careers at Easter Seals
Core Purpose
To change the way the world defines and views disability by making profound, positive differences in peoples lives every day.

Making a difference in the lives of children and adults with disabilities, their families and caregivers.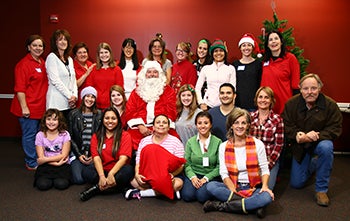 Helping people with disabilities gain greater independence.

A commitment to creating solutions, changing lives.

Sound good so far?

Join us, and you will work in a dynamic environment with other motivated, talented, caring, and innovative individuals while making a difference in the lives of Central Texans with disabilities, their families and caregivers.
Top Talent Deserves Total Rewards
Easterseals Central Texas offers eligible employees the following competitive benefits:
Medical, Dental, Vision, Group Life, Voluntary Life Insurance/Accidental Death and Dismemberment, Long Term Disability, Short Term Disability, Section 125 Cafeteria plan for eligible expenses to be deducted on a pre-tax basis, and a Retirement Plan (403(b) to save for retirement on a pre-tax basis. A ROTH option is also available.


Generous TOWP (Time off with pay) for sick leave, pre-approved vacation leave and personal time off from work


Gold's Gym Membership discounts for employees, their friends and family, as well as discounts for Sam's Club and Costco memberships.
Current Opportunities
Landscaping Supervisor
Easterseals Serving Central Texas
Team Supervisors needed!!! Now hiring supervisors for various job sites. Supervisor is responsible for the execution of day to day operations in the field and monitoring performance and service delivery. Must have experience operating zero turn mowers, weed eater, leaf blower, and ability to load/unload trailer with debris. Must be able to work weekends as needed. Must have a valid Driver License with a three-year clean motor vehicle driving record. View More >>
---
Landscape Crew Member
Easterseals Serving Central Texas
Cut, mow and pile brush on flat or uneven terrain, such as creeks. Some locations involve the cleaning of debris from the area. Example: Vacant lots, the landfill or cleaning behind the landscaping crew. Must have clear background and clean driving record. View More >>
---
Heavy Equipment Operator
Easterseals Serving Central Texas
Heavy equipment operator needed for brush cutting, grass cutting, lifting, clean up, equipment readiness while working with crew. Duties include driving crews to and from work site, driving to and from dump sites, and maintaining vehicle and working alongside crew. Class A CDL combination, drive large and small tractors for shredding, and operate a skid steer. General knowledge of landscaping safety, vehicle operation and maintenance. Must be able to work full time, have and maintain commercial driver license. You must be able to pass drug screen, and have a three-year clean motor vehicle record. Starting pay $14 - $18 per hour depending on experience. View More >>
---
Easterseals Central Texas Public Policy Unpaid Internship Summer 2018
Easterseals Serving Central Texas
Easterseals Central Texas, a non-profit that works to promote independence and create opportunities for adults and children with disabilities, is seeking one part-time Public Policy Intern for the Summer 2018 to help cover activities surrounding the next Texas legislative session. Under supervision of the Advocacy Manager, the intern will help advance the Easterseals mission by advocating for health and disability rights policies with focuses on access to care, employment, and housing. Additionally, the intern will work to further the goals of a program to provide leadership and advocacy training to self-advocates and family members in Texas. We ensure that interns have the opportunity to engage deeply in the advocacy process, seeing the strategy sessions, meetings, and events that lead to successful policy change. Prospective interns should be at the graduate-student level with a concentration or focus in public policy, social work, public health or law. Self-advocates and family members, bilingual applicants, and those with diverse cultural backgrounds are strongly encouraged to apply. View More >>
---
Donation Center Driver
Easterseals Serving Central Texas
The Donation Center Driver is responsible for daily route completion. This consists of mapping and routing the day's pickups, completing the route, delivering the donations as required and completing the Driver's Pick Up report and Truck report paperwork. View More >>
---
Application Process
Please submit your completed application, cover letter and resume. Applicants may submit their application and resume a variety of ways:
Email: hresources@eastersealstx.org
Fax: (512) 615-7121
Mail: Attn: Human Resources, 8505 Cross Park Drive, Ste. 120, Austin, TX 78754
In Person: 8505 Cross Park Drive, Ste. 120, Austin, TX 78754
Easterseals Central Texas is an equal employment opportunity employer without regard to race, color, sex, religion, national origin, age or stability and conforms to all applicable federal and state laws, rules, guidelines and regulations.
The Employment Application is an editable pdf.