The Safeway Foundation and Easter Seals Raise Thousands to Support Veterans and Their Families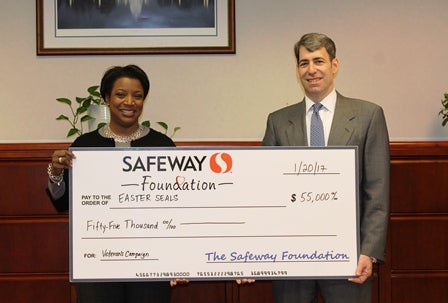 Safeway Foundation, continuing its long history of recognizing the enormous sacrifices made by our Veterans, awarded $55,000 raised during its annual Veteran's Day campaign to Easter Seals Serving DC|MD|VA.
From November 4-13, 2016 Safeway stores in the District of Columbia, Maryland, Virginia, Delaware and Florida asked customers to "give for those who gave so much," collecting customer donations at registers to help fund Easter Seals Veteran Staffing Network.
"The Safeway Foundation and Safeway are proud to make a difference in veterans' lives," said Dan Valenzuela, Eastern Division President. "We believe their sacrifice and service should be honored, and we aim to support their transition back into civilian life."
Easter Seals Veteran Staffing Network is an innovative nonprofit staffing agency for veterans, service members and their families that launched in 2013 and operates nationally. The program aims to help veterans, wounded warriors and their spouses to transition to civilian life and navigate meaningful career paths. To date, the Veteran Staffing Network has more than 1,000 full-time, career-focused job placements.
"Our unique business model includes collaboration with businesses, government, military and Veteran Service Organizations to ensure that veterans and military family members are prepared for and secure meaningful employment, and employers receive the most qualified candidates," said Tim Stecher, Executive Vice President of Veterans Employment, Veteran Staffing Network. "Safeway's support has helped ensure that our nation's heroes and their families are fully integrated in and contribute to our communities."
For additional information about our military programs, please visit us HERE.