Easter Seals Serving DC|MD|VA Says Farewell and Celebrates Former CEO Upon Retirement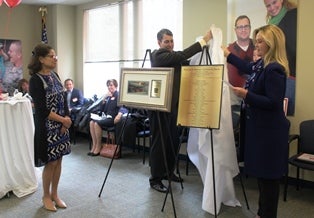 On February 14th, the Board of Directors and staff members at Easter Seals celebrated Lisa Reeves and her 35 years of service, the last 17 as President and CEO of Easter Seals Serving DC|MD|VA.
The farewell was held in the Richard & Rae Swirnow Center of Excellence in Training. In honor of Lisa's leadership a room will be dedicated in her name: The Lisa A. Reeves Community Room in the Morris & Gwendolyn Cafritz Foundation Adult Day Services in the Harry and Jeanette Weinberg Inter-Generational Center.
A special citation was also presented from Senator Chris Van Hollen's office.
Special guests and speakers included Board Chair, Marta Wilson; Board Member, MG Carl H. McNair, Jr., (RET); and Easter Seals National President and CEO, Randy Rutta.
We thank Lisa for her leadership and commitment to embracing the challenges of the community, and improving the lives of people we serve.